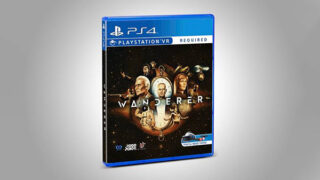 Oddboy and M Theory have delayed virtual reality time travel adventure game Wanderer from its previously planned Q3 2021 release window to Q4 2021, as well as announced plans to release a physical edition for PlayStation VR published by Perp Games.
"The last year has been a pretty tricky one," the Wanderer development team said in a message. "Navigating COVID-19 and its effects while maintaining a healthy and productive environment and developing a unique game for virtual reality has meant we're running a bit behind on our schedule."
The physical edition of Wanderer for PlayStation VR will include a copy of the game and an exclusive digital version of the official art book.
"It's been awesome to get this partnership with Perp off the ground," said Wanderer executive producer Samu Ramlu in a press release. "It extends our audience and is a great keepsake for fans—perhaps even one of the last first gen PlayStation VR games available as a physical edition. The team at Perp have been wonderful to work with and we can't wait to get our hands on the final box!"
Perp Games managing director Rob Edwards added, "Probably the best looking PlayStation VR game we have had the privilege to play, Wanderer is an incredibly detailed and extremely well-thought-out puzzle adventure game. It's a pleasure to be publishing the physical retail edition,. For anyone who's ever wanted to 'be there': on stage at Woodstock, part of the moon landings, or with Nikola Tesla in the early 20th century, Wanderer is a must-have game for history and adventure game buffs alike."
Oddboy and M Theory have also released new in-game footage showcasing an extended play-by-play on one of the game's key characters: Samuel the Watch.
"The Watch is the companion to the game's lead character, Asher Neumann, and is integral to your journey through the adventure and in solving any puzzles you encounter," reads the press release. "Part One of two video reveals takes a deep dive into the features of the watch and shows just how vital its role is in solving Wanderer's time travel mysteries."
Wanderer will be available for PlayStation VR, Oculus, and Steam VR.
Watch the new footage below.