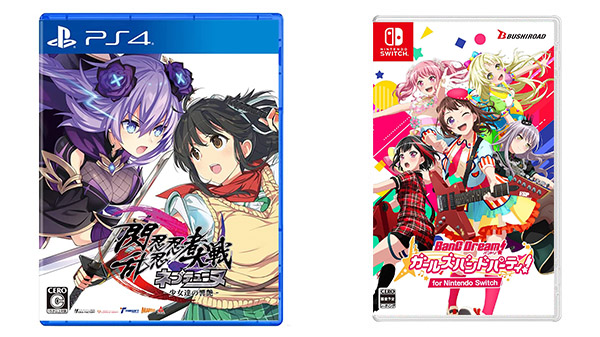 Neptunia x Senran Kagura: Ninja Wars for PlayStation 4 and BanG Dream! Girls Band Party! for Nintendo Switch are the highlights of this week's Japanese video game releases.
Other new releases due out this week include Deathloop for PlayStation 5 and PC, the Switch version of Ni no Kuni II: Revenant Kingdom, and Metallic Child for Switch and PC (PlayStation 5 and PlayStation 4 versions to follow at a later date).
Get the full list of this week's Japanese game releases below. It should be noted that Gematsu will receive a small percentage of money from purchases made through Play-Asia links. You can also save five percent using our "GEMATSU" coupon code.
Physical and Digital
Digital-Only
Amamane 2 (Switch)
The Amazing American Circus (PS4, Xbox One, Switch, PC [Steam]) – Launching worldwide.
A-Train 9 Version 5.0 Complete pack DX (PC [Artdink eShop])
Catlateral Damage: Remeowstered (PS5, Xbox Series, PS4, Xbox One, Switch, PC [Steam]) – Launching worldwide.
Classic Logical Bundle (4in1) (Switch) – Launching worldwide.
Colors Live (Switch) – Launching worldwide.
Cruis'n Blast (Switch) – Launching worldwide.
Deathloop (PC [Steam]) – Launching worldwide.
Eastward (Switch, PC [Steam]) – Launching worldwide.
Elva the Eco Dragon (Switch) – Launching worldwide.
Evergate (Switch) – Already available worldwide.
G-Mode Archives 38 mystia2 (Switch)
Metallic Child (PC [Steam]) – Launching worldwide.
Murder Diaries (Switch) – Launching worldwide.
Poker Pretty Girls Battle: Texas Hold 'Em (PS5, PS4, Switch) – Launching worldwide.
Predator and Wreck (Switch)
Project Winter (PS4, Switch) – Launching worldwide.
Sky Racket (Switch) – Already available worldwide.
TOEM: A Photo Adventure (PS5, Switch, PC [Steam]) – Launching worldwide.
Yousai Keimusho kara no Dasshutsu (Switch)
The PlayStation 5, PlayStation 4, and Switch titles listed above can be purchased through Japanese PlayStation Network and Nintendo accounts using prepaid cards: