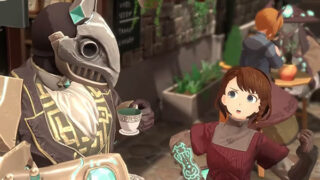 Kyoto-based developer CharacterBank has released the second trailer for virtual reality magic action RPG RUINSMAGUS.
Here is an overview of the game, via CharacterBank:
About

RUINSMAGUS is a virtual reality magic action RPG. It is set in the ruins city of Gran Amnis, which features a large ruins in the center of town. The player is a novice ruins hunter who, alongside novice researcher Iris from the research institution Enigma, aims to unravel the ruins' mysteries.

Scenario Part

Experience a 26-chapter story featuring over 30 unique characters in virtual reality. You and Iris will pursue the ruins' mysteries. What end awaits you after overcoming various difficulties and barriers…?

Action Parts

Within the ruins, you will have no choice but to fight against the "Guardians" that attack you. Strengthen and utilize magic with various characteristics, defeat the Guardians, and aim for the ruins' depths. In addition to magic, you must also make proper use of shield (defend and parry) and evasive actions.
RUINSMAGUS is due out for PC via SteamVR and Quest via Oculus Store this winter with English and Japanese language support.
Watch the trailer below.