Mega Man X DiVE coming to PC in September in Southeast Asia
Currently available on iOS and Android.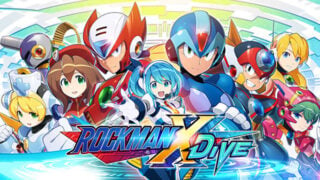 Capcom Taiwan will release Mega Man X DiVE for PC via Steam in September in Cambodia, Hong Kong, India, Indonesia, Macau, Malaysia, Philippines, Singapore, Taiwan, and Thailand, the developer announced. It will support English, Japanese, Thai, and Traditional Chinese language options.
Mega Man X DiVE is currently available for iOS via App Store and Android via Google Play.
Here is an overview of the game, via its Steam page:
About

This version will first be launched in the following regions and territories: Cambodia, Hong Kong, India, Indonesia, Macau, Malaysia, Philippines, Singapore, Taiwan, and Thailand.

For servers, players can choose the Asia server for one of the following regions: Region 1 X, Region 2 Zero, Region 3 Axel, or Region 4 Vile.

For players who have been playing the mobile version of the game (Asia server), you can link your SteamID and play Mega Man X DiVE by downloading the PC version via Steam.

The latest chapter in the classic action shooting game, Mega Man X! Play as the legendary irregular hunters X and Zero, and take on the internet world known as the "Deep Log."

Key Features

Has the Same Computer World from Previous Versions of Mega Man X: "Deep Log" – An unexplainable error occurred in the Deep Log one day, causing the game data of Mega Man X to malfunction. Use legendary heroes such as X and Zero to take on the irregular data!
A Literal and Uncompromised Presentation of Authentic Mega Man Actions – Dashes, jumps, buster, and saber! The game retains the authentic actions of Mega Man X, and has added automatic aiming and 360-degree shooting. The unique optimization of this game makes movements even smoother! The size and positioning of the buttons can also be customized to make it even closer to the original Mega Man X!
The Characters of Mega Man X will Be Introduced One After the Other – The images and 3D models in this game have been recreated using the latest specifications. The characters of your memories will be introduced with brand new appearances!
Equip a Wide Variety of Weapon and BOSS Chips – In addition to the necessary busters and saber, there will be a large number of weapons added to the game. Try the beam sickle of Grim Reaper Sigma and enjoy the thrill of tearing through enemies! In addition, collect corresponding chips by defeating BOSSES. Make BOSS skills part of your own arsenal, and swiftly defeat all of the enemies.
Experience the Thrill of Cooperative / Versus Modes – This is the first time that the "Co-Op" system is implemented in the Mega Man X series! Enjoy completing difficult levels with your friends. In the "Versus Mode," you can use the characters you've cultivated and show off various skills to defeat your opponents.
Watch a trailer below.