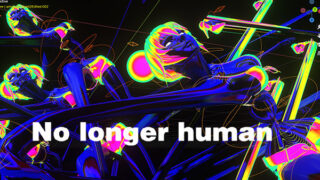 Publisher PM Studios and developer 0801 LLC have announced No longer human, a "high-energy cybergoth action fvck 'em up" coming to consoles and PC via Steam in 2022. Specific consoles were not announced.
The game will be playable for the first time at PAX West 2021 from September 3 to 6.
Here is an overview of the game, via its Steam page:
No longer human is a high-energy cybergoth action fvck 'em up with expressive, freeform combat that encourages aggressive, stylish play. Set in the near future, brain-computer interfaces have become as commonplace as mobile phones, allowing users to submerge themselves entirely into the metaverse and abandon the physical world altogether. You assume the role of Tsunono, the once world famous vocaloid idol turned cyberdemon, on her destructive path to total world domination.

Kill the World

Become the cartographer of your own reality and cut down anyone who gets in your way in this surreal, Lynchian adventure down to the bedrock of the collective human psyche.
Watch the announcement trailer below. View the first screenshots at the gallery.