Heaven Burns Red first trailers, pre-registration now available in Japan
Dramatic RPG from WFS and Key due out in 2021.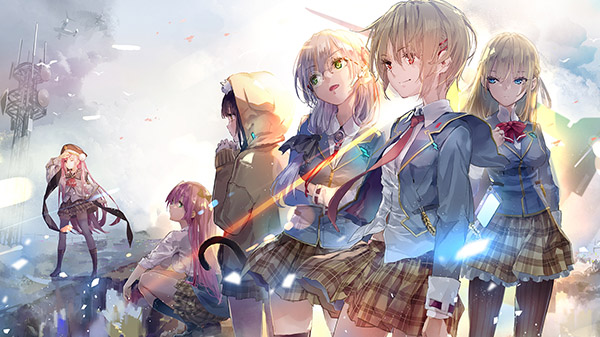 WFS and Key have released the first set of trailers for dramatic RPG Heaven Burns Red, as well as opened pre-registration for iOS via App Store and Android via Google Play.
Here is an overview of the game, via its store pages:
Heaven Burns Red is the story of a group of girls pinned as the world's last hope, written by Key's Jun Maeda. Run around fields and experience a priceless everyday life while fighting to survive in this dramatic RPG!

Introduction

Earth is on the verge of being attacked by a mysterious life-form called "Cancer." The weapons developed by humanity thus far have been ineffective against it. Lacking a means to repel the enemy, humanity was tragically defeated. The lands were abandoned, and the ravages of war led to many countries being wiped off the map. And much of the land is now under the Cancer's control.

With little time left and extinction on the horizon, humanity developed a new weapon—the ultimate weapon: "Seraph." Only those equipped with a Seraph can effectively damage the Cancer. Having gathered those who have mastered the art of Seraph manipulation, humanity established the Seraph Corps as its last hope.

Those who could manipulate Seraphs all had one thing in common: they were girls with some sort of talent.

Ruka Kayamori is among them. And so she, too, throws herself into battle against the Cancer.

Key Features

A collaboration between Key's Jun Maeda—who has previously delivered to the world numerous masterpieces such as AIR, CLANNAD, Little Busters!, and Angel Beats!—and WFS, who has developed Another Eden, Shoumetsu Toshi, and more. This is also Maeda's first completely new title in 15 years, depicting the story of a group of girls pinned as the world's last hope.
A total of 50 voice actors voice the game's unique characters in this fully-voiced story.
Run around high-quality fields and experience the characters' priceless everyday life.
Exhilarating command battles with simple controls, where cooperation between characters is key.
Heaven Burns Red is due out in 2021 in Japan.
Watch the trailers below.
Trailer
Unit 31A Introduction
Ruka Kayamori (voiced by Tomori Kusunoki)
Yuki Izumi (voiced by Maekawa Ryoko)
Megumi Aikama (voiced by Anju Inami)
Karen Asakura (voiced by Seria Fukagawa)
Tsukasa Tojo (voiced by Yurina Amami)
Tama Kunimi (voiced by Aoi Koga)