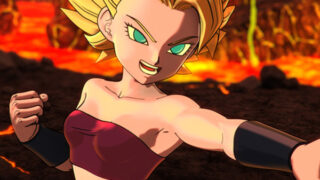 Publisher Bandai Namco and developer Dimps have announced Dragon Ball Xenoverse 2 downloadable content character Caulifla (Super Saiyan 2), who will join the game via the "Legendary Pack 2" due out this fall.
Here is an overview of the character, via Dragon-Ball-Official.com:
Caulifla (Super Saiyan 2) is ready to heat things up as a fully playable character! She overwhelms her foes with unrelenting hits, devastating Kidan, and lightning-fast movements!

Ultimate Attack: Crush Stream

After firing off two savage Kidan, Caulifla blasts her foe with a Kikouha!

Super Attack: Crush Cannon

Hold down the fire button to power up Caulifla's Kidan! You can also guard to maintain your energy buildup!

Super Attack: Double Crush

Caulifla uses both hands to conjure an array of Kidan and launches them simultaneously! You can even fire them on the spot!

Includes New Extra Missions!

Following on from the previously released downloadable content, "Legendary Pack 1," we're getting more Extra Missions this time too! Fu is back again and gearing up to conduct more experiments in these missions that take place in the time before the events of the hit theatrical release Dragon Ball Super: Broly. Plus, Caulifla is also set to join the action…!

"Caulifla's Clothes" Added to the Avatar Wardrobe! (Paid DLC)

Your fully customizable Avatar will soon have the chance of wearing "Caulifla's Clothes"! Boy or girl, man or woman, this colorful ensemble is sure to turn some heads!
Dragon Ball Xenoverse 2 is available now for PlayStation 4, Xbox One, Switch, PC via Steam, and Stadia.