Disney Magical World 2: Enchanted Edition announced for Switch
The 3DS sequel, enhanced and remastered.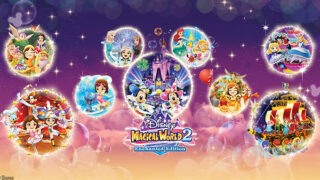 Bandai Namco has announced Disney Magical World 2: Enchanted Edition for Switch. It will launch on December 2 in Japan and Asia, and this holiday worldwide.
Disney Magical World 2: Enchanted Edition is a remastered and enhanced version of the 3DS original Disney Magical World 2.
Here is an overview of the game, via Bandai Namco:
A Game that Lives in the Magical Disney World

With a letter invitation, you become a resident of the dream and magical world where Mickey and Friends live! Go out with your Disney friends and take part in various events such as shopping, making clothes and furniture, fishing, birthday parties, and dance parties.

Dive into Six Worlds!

Magic Castle has a special place called a "World," and stories unique to each world unfold.

Jump into six worlds such as Frozen, The Little Mermaid, and Alice in Wonderland, and go on an adventure with your favorite friends.

Over 100 Disney Characters You Can Meet!

In the world of Magic Castle, you can meet more than 100 characters. Spend a year together adventuring, and enjoy the sparkling dream life with your Disney friends.

Enjoy the Game in Your Own Way!

Collect materials to make costumes and furniture, manage cafes visited by Disney characters, and enjoy a glittering light show in the dream world at night!
Watch the announcement trailer below. View the first screenshots at the gallery.