Chocobo GP announced for Switch
Due out in 2022.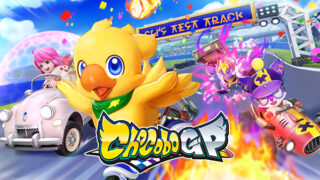 Square Enix has announced Chocobo GP for Switch. It will launch in 2022.
Here is an overview of the game, via Square Enix:
About

Chocobo GP is a thrilling new kart racing experience set in the Chocobo universe. Featuring a variety of whimsical characters from across the franchise, players will be able to dash to the finish as the game's namesake and star, Chocobo and friends. Chocobo GP will challenge racers to master courses from well-known Chocobo and Final Fantasy series locations. Set off on a new journey with Chocobo and friends as they enter a racing tournament to win an unbelievable reward: a wish for anything their heart desires!

Key Features

Various Game Modes – Play various modes including Story and Custom Races. Also enjoy exciting survival races in a bracket-style tournament, which can support up to 64 players. Select modes support online and/or local multiplayer.
Thrilling Courses – Race through various courses taking inspiration from the Chocobo and Final Fantasy series, including Cid's Test Track, the streets of Alexandria and Zozo and the Gold Saucer.
Roster of Beloved Characters – Players can choose from a wide selection of Chocobo series characters.
Magical Magicite – By collecting magicite, found within Magic Eggs scattered around the various tracks, racers will be imbued with magic, such as Fire or Aero, which can be used against their fellow racers to give them a competitive edge and speed to the finish.
Watch the announcement trailer below. View the first screenshots at the gallery. Visit the official website here: English, Japanese.
English
Japanese