BLACK BIRD coming to PS4
Become the calamity and destroy the kingdom with a bullet hell.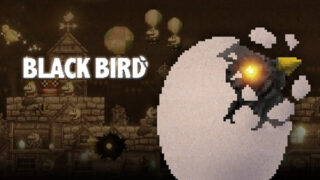 Onion Games will release BLACK BIRD for PlayStation 4, according to a newly published PlayStation Store listing. A release date was not announced.
BLACK BIRD first launched for Switch and PC via Steam in October 2018.
Here is an overview of the game, via its Steam page:
About

A bird of happiness, or fowl fortune? Feathers black, all lives consumed!

This is the tale of a young girl who dies one day on a street corner and is reborn as the ominous Black Bird. The bird is one of the great calamities, spoken of in the kingdom since ancient times.

Become the calamity, "Black Bird," and destroy the kingdom with a bullet hell.

What fate awaits this girl-turned bird? Will you, the Black Bird, destroy the world? Will this lively, fun-filled kingdom tread the path to destruction?

Key Features

A darkly humorous world, built with loving care, pixel by pixel. Visuals which recall a classic era of gaming portray a rich, picture book world. Completing each stage will reveal more of the mysteries which shroud the dark, fairytale-like exterior.
A unique audio / visual mix combined in an action-packed shooting game. Your enemies' movement synchronizes with the operatic soundtrack, sung in a bizarre, fictional language, creating a truly unique experience.
Eight different endings! A high score is the key to the real ending and unlocking the story's secrets. Your skill will guide how the story concludes; practice really does make perfect!
Extra Features Galore! Unlock True Mode after completing the game to see new enemies, hidden bonus characters and more! Learn the combo system, bomb system and hidden characters, then mix and match to find your own play style. When you're confident, aim for the top of the leaderboards in Score Attack.
Watch the PlayStation 4 announcement trailer below.
Update 12/16/21: This post has been updated to remove mention of a PlayStation 5 version. Despite being announced for PlayStation 5 by Onion Games, it was only in reference to the PlayStation 4 version, which is playable on PlayStation 5.