Bayonetta 3 launches in 2022, gameplay trailer
The 2017-announced threequel resurfaces.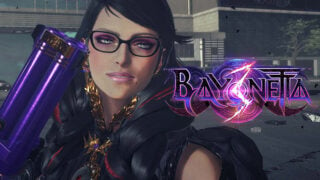 Bayonetta 3 will launch for Switch in 2022, publisher Nintendo and developer PlatinumGames announced.
More information about the game will be released at a later date.
Watch the first gameplay trailer below, followed by messages from the directors. View the first screenshots at the gallery.
A Message from Bayonetta 3 Director Yusuke Miyata

Hello, everyone! This is Yusuke Miyata, the director of Bayonetta 3. We've kept you waiting for a very long time, but I'm very happy that we've finally been able to bring you a new trailer.

This is my first time working on the Bayonetta series, but just like all of you, I'm a big fan and played the previous games nonstop. After being tapped to direct, I of course not only played through the previous games again, but also read every Bayonetta-related book there is cover to cover before getting into deep discussions with Kamiya-san about every aspect of the game from systems to settings before getting to work.

One of the biggest draws of Bayonetta games is the mysterious and alluring character of Bayonetta herself, as well as that of the entourage of unique characters that surrounds her. I've worked on the development of several character games, and I used that experience to the fullest to bring out the charms of Bayonetta and the gang.

I'm also being extremely discerning about the action which is essential to the Bayonetta series. Kamiya-san has almost literally talked my ear off about "action connected directly to the brain." Basically, that's the type of satisfying action gameplay that comes from being able to control the character exactly how you want, and the genes of that action have been properly passed down to this game too. From the position of both developer and fan, we're all working on Bayonetta 3 keeping these 2 bewitching aspects of the series in mind, with the goal of surpassing all expectations.

So what did you all think of the new trailer?

We sprinkled a lot of new elements throughout the frenetic pacing. I'd like to talk a bit about one of those, a new featured mechanic that lets you control Infernal Demons, called "Demon Slave."

Unlike the Climax Summons of previous games that automatically defeated enemies and returned to Inferno, this mechanic lets players control demons during gameplay and unleash a host of intuitive actions. Each demon's abilities vary and the kinds of abilities that are advantageous in a certain situation can change at any time. Just how many are there? What else can you do? Well, there's a lot more I'd like to tell you, but I have to stop here for now. However, there's a lot of info hidden in the trailer that I didn't go into here, so please consider watching it again until the next announcement.

We're in the home stretch of development right now, working on making the core of the game even more fun and test playing nonstop. As the culmination of this series loved by all of you, we're giving our all to make it a masterpiece worth of the name Bayonetta so please wait and anticipate just a bit longer!

Yusuke Miyata
Director, Bayonetta 3

A Message from Bayonetta 3 Executive Director Hideki Kamiya

Sorry to have kept you all waiting. It's been about four years since the announcement back in 2017… We really, really kept you waiting.

In those four years, I'm sure people had a lot of concerns like "What's happening with Bayonetta 3?" and "Are they really still working on it?" and "When are we going to get some new news?" But just as much as everyone wants to see Bayonetta 3 as soon as possible, all of us working on it have been burning to show it off just as badly, and without being able to hear any cheers from fans, we've buckled down and kept working for four years.

Now we've finally been able to show the fruits of our labors and the team can finally breathe a sigh of relief, and we'll be able to concentrate even harder on our work. It's been a long four years for us too.

The impressions of everyone who saw the announcement will definitely energize us. There are still a lot of secrets about Bayonetta 3, but for now we'd like everyone to let your imaginations run wild from this trailer and get excited.

With Bayonetta 3, I'm still overseeing the world and story, but in order to breathe some new life into the game I've chosen Yusuke Miyata, a longtime and trusted co-worker (although he can be a bit of a goofball), as the director.

We've also the talents of directors Yuji Shimomura and Masaki Suzumura helping us bring unprecedented amounts of smiles, years, drama, humor, and sexiness to the movie scenes.

And of course, Bayonetta's look has been handled by someone you might call her personal designer, Mari Shimazaki. This time Bayonetta dances into the fray looking more fashionable and elegant than ever.

So everyone, there's no need to worry, Bayonetta 3 is real, and the day when you'll be able to hold it in your hands and play is definitely coming! Rest easy and look forward to more info to come, because no matter how great your expectations may be, I promise we'll deliver an experience that exceeds all of them.

Hideki Kamiya
Executive Director, Bayonetta 3