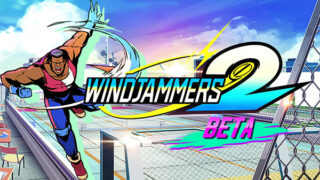 An open beta test for Windjammers 2 will run across PlayStation 5, PlayStation 4, and PC via Steam from August 11 to 22, publisher and developer Dotemu announced. This is also the first announcement of PlayStation 5 and PlayStation 4 versions.
Here is an overview of the open beta, via Dotemu:
About the Open Beta

Athletes can face off in online ranked play across courts spanning a sandy beach, roaring stadium, rowdy ring, or a towering rooftop complete with shot-deflecting bumpers. The open beta allows PlayStation 5 and PlayStation 4 owners to go head to head, while Steam users can battle to conquer their own league. Score goals through unpredictable play, unleash special moves for an upper hand, and climb the open beta's leaderboards to become an undisputable champion.

Playable Characters

Steve Miller (United Kingdom) – Clever and agile, Steve excels at executing split-second reversals and tricky curved shots.
Gary Scott (United States) – The American heavyweight may be slow, but he's one of the game's most powerful characters. And I have to admit, he's also the Dotemu team's favorite.
Loris Biaggi (Italy) – Swift, strong, versatile… this well-balanced champion hasn't lost a step.
Sophie De Lys (France) – We just had to add a French character, right? But attention: she's fast and furious.

Each character has a unique balance of power and speed—find the one that best fits your playstyle! More characters are included in the full game, with even crazier tricks and throws.

Stages

Beach – A narrow court that facilitates fast games and quick throws.
Ring – A wide stage perfect for running your opponent ragged.
Stadium – This court boasts a 5-point zone that grows larger when a player scores multiple times in a row. A great way to catch-up!
Rooftop – A regular court, except for the bumpers that change the disc's direction when they're hit. Careful, they're as diabolical as they sound!
Windjammers 2 is due out for PlayStation 5, PlayStation 4, Switch, and PC via Steam in 2021.
Watch a new trailer below.
Update 11/17/21 at 9:52 a.m.: There is no native PlayStation 5 version of Windjammers 2, Dotemu has confirmed. The PlayStation 4 version is playable on PlayStation 5. Read more here.