Sky city builder Airborne Kingdom coming to PS5, Xbox Series, PS4, Xbox One, and Switch on November 9
Currently available on PC.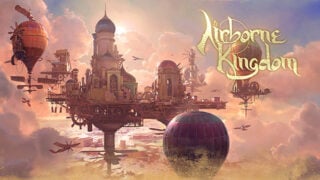 Publisher Freedom Games and developer The Wandering Band will release sky city builder Airborne Kingdom for PlayStation 5, Xbox Series, PlayStation 4, Xbox One, and Switch on November 9, the companies announced.
Airborne Kingdom first launched for PC via Epic Games Store in December 2020.
Here is an overview of the game, via Epic Games Store:
About

Airborne Kingdom—the sky city builder. Grow your unique town among the clouds, and fly it across a wide-open landscape. Explore the skies to restore serenity to the world below

Key Features

Build Your Domain – Construct a unique sky city. Build housing, satisfy needs, and grow your clan. Maintain lift, balance weight, and be careful not to run low on fuel!
Fly The Barrens – Explore the landscape, which changes with every playthrough. Search for resources, find lost technologies, and discover the fate of The Ancients!
Connect The Kingdoms – Gain allegiance with the ground kingdoms. Help them find art
Watch a new trailer below.