Pokemon UNITE for iOS, Android launches September 22
Switch version already available.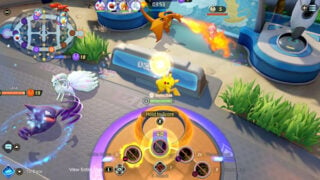 Pokemon UNITE will launch for iOS and Android on September 22, The Pokemon Company and developer TiMi Studio Group announced. It will be free-to-start with optional in-game purchases available.
The Switch version of Pokemon UNITE first launched on July 21.
Here are the latest details, via The Pokemon Company:
Pokemon UNITE will be available for download on mobile devices on September 22, 2021. In this title that released on the Nintendo Switch system last month, players face off against each other in five-on-five team battles, in which they cooperate with teammates to defeat wild Pokemon—as well as level up and evolve their own Pokemon—to defeat the opposing team. In anticipation of the launch of the mobile version, pre-registration has now begun on the App Store and Google Play Store. If pre-registration totals reach 2,500,000, players will receive the Unite license for Pikachu. If the total hits 5,000,000, players will also get a Special Holowear—Festival Style: Pikachu. If and when those thresholds are reached, Trainers can claim the Pikachu Unite license and Holowear by logging in to the mobile version of Pokemon UNITE and completing the log-in event by October 31, 2021, at 7:59 a.m. PDT.

Pokemon UNITE players can also log in to the Nintendo Switch version of the game right now to receive the Unite license for Zeraora as a special gift. If players link the same account to both the Nintendo Switch version and the mobile version, they'll be able to use Zeraora in the mobile version when it launches, too. Trainers can also look forward to Mamoswine and Sylveon, coming soon as the next playable Pokemon to join the fray.
View a new set of screenshots at the gallery.