Otome visual novel Killer and Strawberry Plus announced for Switch
Due out on February 23, 2022 in Japan.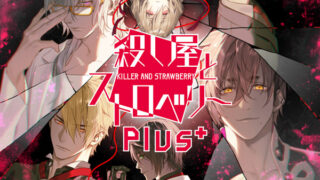 Broccoli has announced Killer and Strawberry Plus for Switch. It will launch on February 23, 2022 in Japan for 6,930 yen.
Killer and Strawberry first launched for PS Vita in August 2018 in Japan.
The Switch version includes the same content from the PS Vita version, plus a new, fully-voiced episode set after the game's true love ending.
Here is an overview of the game's story, via VNDB:
In a city somewhere in modern day Japan the protagonist 'Ichigo' is drugged, put in a case and taken to a certain place.
When she wakes up she is somewhere normal people can't enter, 'Cafe Tsukikage', a cafe where people who deal in illegal business gather.

Because it exists in the underworld even the owner and waiter at the cafe are contract killers.
While Ichigo is wary, the owner of the cafe Tsukimi explains that he has accepted a certain request.

"This request isn't a kill contract, it's to protect you. That's why we brought you here. Once we've taken on this request we will definitely protect you."

Because of a certain past trauma Ichigo lost her voice, and with no relatives or place to go she half doubtingly accepts a job as a waitress at the cafe.

"Who on earth is targeting me? And who asked these killers to protect me? What will … happen to me from now on?"

A story about dealing with various people from the underworld, like contract killers, smugglers, and weapons merchants while solving a multi-layered mystery and chasing after the sealed truth.
Visit the official website here.