Heaven Burns Red Presentation set for September 11
Key and WFS's 2019-announced RPG resurfaces.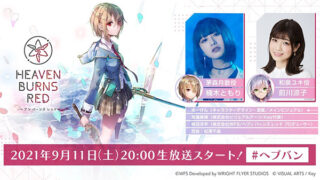 Key and WFS will host the Heaven Burns Red Presentation live stream on September 11 at 20:00 JST, the companies announced. You will be able to watch it on YouTube and Niconico.
The broadcast will feature full details on Heaven Burns Red, which is written by Clannad writer Jun Maeda and was first announced for iOS and Android in November 2019.
Presenters include Tomori Kusunoki (Ruka Kayamori voice actor), Ryouko Maekawa (Yuki Izumi voice actor), Yuugen (character designer and main visual), Takahiro Baba (Visual Arts founder / Key representative), Youhei Kakinuma (WFS / Heaven Burns Red producer), and Chiaki Matsuzawa (host).
Heaven Burns Red is due out for iOS and Android in 2021 in Japan.
Watch a teaser trailer featuring the first in-game footage below.
https://www.youtube.com/watch?v=vdsCJ3lUGmg