GetsuFumaDen: Undying Moon Early Access second major update now available
New stage Subspace Citadel and new boss Daidarabotchi added.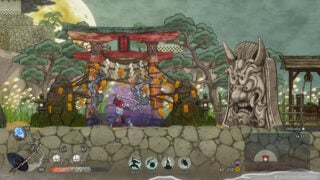 Konami has released the second major update for the Early Access version of GetsuFumaDen: Undying Moon, which adds the new stage Subspace Citadel and more.
Get the details below, via Konami.
New Stage: Subspace Citadel

An ancient castle designed to keep unwanted guests at bay with its many tricks and traps, Subspace Citadel will surely pose a new challenge for GetsuFumaDen: Undying Moon players.

New Boss: Daidarabotchi

With this new stage also comes a new boss to conclude it; Daidarabotchi, a possessed being with a body more massive than a mountain, will be the final encounter within the ancient castle. New enemies Tenaga-Ashinaga and Shishi Gashira will also appear in Subspace Citadel.

New Feature: Hall of Treasures

Another big change in this update comes in the form of the newly added Hall of Treasures feature. The Hall of Treasures, accessed via the Getsu Clan Estate, is where players will be able to view various records and data relating to their gameplay progress. The first of these records, the Battle Record, is available immediately and will give players more information on enemies they have previously defeated.
Get the full patch notes here.
GetsuFumaDen: Undying Moon launched in Early Access for PC via Steam on May 13, and is due out for Switch in 2022.
View a new set of screenshots at the gallery.