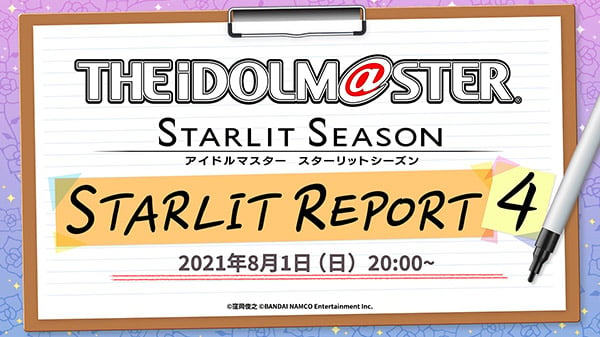 Bandai Namco has released a 25-minute gameplay video of The Idolmaster: Starlit Season showcasing a one week game cycle, as well as announced it will host the fourth official "Starlit Report" live stream on August 1 at 20:00 JST, where it will share the latest information on the game. You will be able to watch it on YouTube and Niconico.
The live stream will feature the following presenters:
Chiaki Takahashi (Azusa Miura voice actor)
Azusa Tadokoro (Shizuka Mogami voice actor)
Anna Yamaki (Sakuya Shirase voice actor)
Maaya Uchida (Ranko Kanzaki voice actor)
Youzou Sakagami (The Idolmaster series general producer)
Hayato Kutaragi (The Idolmaster: Starlit Season producer)
The Idolmaster: Starlit Season is due out for PlayStation 4 and PC via Steam on October 14 in Japan. A PlayStation 4 demo is also planned.
Watch the footage below.