The Idolmaster 16th Anniversary Party live stream set for July 25
Idol raising game celebrates 16 years.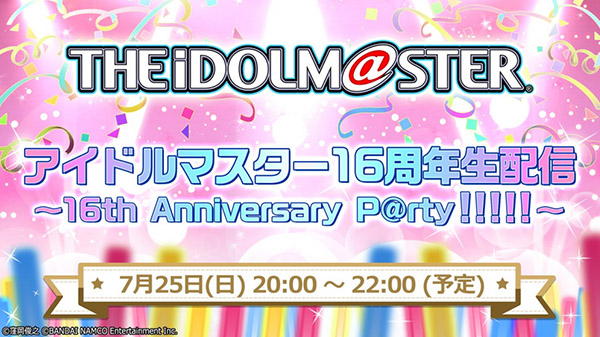 Bandai Namco will host "The Idolmaster 16th Anniversary Party!!!!!!" live stream on July 25 from 20:00 to 22:00 JST, the company announced. You will be able to watch it on YouTube, Twitter, and Niconico.
The broadcast will feature the following cast:
765 Production All Stars (The Idolmaster)

Eriko Nakamura (Haruka Amami voice actor)
Asami Imai (Chihaya Kisaragi voice actor)

Cinderella Girls (The Idolmaster: Cinderella Girls)

Eriko Matsui (Nao Kamiya voice actor)
Rika Nagae (Hayate Hisakawa voice actor)

Million Stars (The Idolmaster: Million Live!)

Azusa Tadokoro (Shizuka Mogami voice actor)
Saki Minami (Tsumugi Shiraishi voice actor)

315 Stars (The Idolmaster: SideM)

Tomohito Takatsuka (Minori Watanabe voice actor)
Takeaki Masuyama (Suzaku Akai voice actor)

Shiny Colors (The Idolmaster: Shiny Colors)

Hitomi Sekine (Mano Sakuragi voice actor)
Azusa Shizuki (Nichika Nanakusa voice actor)

Staff

Youzou Sakagami (The Idolmaster series general producer)
Nao Kitajima (The Idolmaster: Poplinks producer)
The latest entry in the series, The Idolmaster: Starlit Season, is due out for PlayStation 4 and PC via Steam on October 14 in Japan and Asia.