Mortal Shell DLC 'The Virtuous Cycle' launches August 18
New roguelike mode, new playable shell, and new transforming weapon.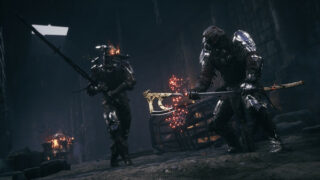 Mortal Shell downloadable content "The Virtuous Cycle" will launch for all platforms on August 18, publisher Playstack and developer Cold Symmetry announced.
Here is an overview of the downloadable content, via its Steam page:
About

"The Virtuous Cycle" is a game-altering roguelike expansion for the award winning Mortal Shell.

Prove your resolve once more, foundling. A blackened sky will be your only certainty as you descend once again through an ever-shifting and never forgiving landscape. Adapt, salvage, invest, and enhance to escape this unending abyss.

"Beware, upon death, a new cycle will begin…"

New Roguelike Mode

Carve your own path to deliverance in this self-altering world where no two runs are ever the same. Create your own combat discipline from upgrade pillars that are scattered across Fallgrim and beyond. More than 100 upgrades are yours to inherit, from exotic weapon enhancements to entirely new maneuvers.

New Playable Shell: Hadern

Once your elusive teacher, now yours to master. Hadern becomes Mortal Shell's fifth possessable Shell, playable within both Mortal Shell's main campaign and "The Virtuous Cycle." His unique skill tree unlocks a new domain of innate talents, from dagger mastery to a fearsome ability to absorb punishment.

New Transforming Weapon: The Axatana

Fallgrim's most venerable weapon has been unearthed. In your hands the Axatana bends to your will, assembling itself into a supreme heavy axe when the moment calls, and detaching into lightning-fast dual katanas when you desire. Unique movesets for both stances are yours to unlock.
Mortal Shell is available now for PlayStation 5, Xbox Series, PlayStation 4, Xbox One, and PC via the Epic Games Store, and is coming to Steam this summer.
Watch a new trailer below.