Free-to-play team-based first-person shooter Gundam Evolution announced
PC closed beta test set for August 8 to 9.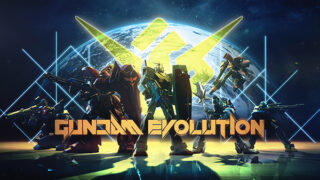 Bandai Namco Online has announced free-to-play team-based first-person shooter Gundam Evolution. Platforms are "to be announced," but a closed beta test will be held on PC from August 8 to 9 in Japan. A full release is planned for 2022.
Here are the first details, via Bandai Namco Online:
About

Gundam Evolution is a first-person shooter where players can experience speedy and immersive team battles while piloting the Mobile Suits from the popular Gundam anime series.

Players can fight using Mobile Suits, which each have their own unique abilities, and fight while switching between them as the situation calls for it.

The game features intuitive controls via the unique "Boost" system, and allows players to enjoy six-versus-six online battles across several different rules and maps.

Free-to-Play Game

Gundam Evolution will launch service across multiple regions worldwide in 2022 as a free-to-play title, and is being developed for across the world to enjoy.

PC Closed Beta Test

Closed Beta Test Dates
Application Period
Number of Participants Accepted
Target Region
Application Form

Gundam Evolution Presentation Live Stream

Bandai Namco Online will host the Gundam Evolution Presentation live stream on July 17 at 20:00 JST. You will be able to watch it on YouTube and Twitter.

The broadcast will feature information on the game, closed beta test, and more with various guests playing the game.

Presenters include:

Moe Iori (MC)
OooDa (MC)
Kane Kosugi
SHAKA (DeToNator)
SPYGEA (DeToNator)
Kazuya Maruyama (Producer at Bandai Namco Online)
Ryouta Hogaki (Battle Director at Bandai Namco Online)
Watch the teaser trailer below. View the first screenshots at the gallery.