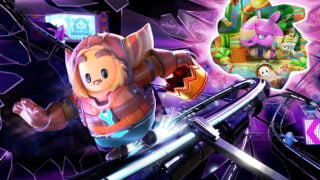 Fall Guys: Ultimate Knockout will add Ratchet & Clank collaboration costumes and rewards starting July 26, developer Mediatonic announced.
Here is the full collaboration schedule:
Teleport to Ratchet and Clank Limited Time Events!

This interdimensional crossover will see Fall Guys players issued with special challenges from the galaxy's most stupendous duo in two rocket-fuelled Limited Time Events. These will have you racing against the clock to unlock a dazzling array of both Ratchet and Clank costumes, banners, emotes and other cosmic cosmetic treats!

Ratchet Limited Time Event (July 26 to August 1)

The Ratchet Limited Time Event brings a whole week of special Challenges from the hot-shot heroic Lombax, with the exclusive opportunity to unlock.

Ratchet Banner: 600 points
Lombax Pattern: 1000 points
Ratchet Costume (Lower): 1600 points
Groovitron Emote: 2000 points
Ratchet Costume (Upper): 3200 points

Clank Limited Time Event (August 6 to 15)

Clank brings a new set of challenges and oodles of exclusive futuristic rewards for players to get their hands on, featuring…

Clank Banner: 600 points
Clank Pattern: 1000 points
Clank Costume (Lower): 1600 points
Clank's Laugh Emote: 2000 points
Clank Costume (Upper): 3200 points
Fall Guys: Ultimate Knockout is available now for PlayStation 4 and PC via Steam. Xbox Series, Xbox One, and Switch versions are currently in development.
Watch a new trailer below.