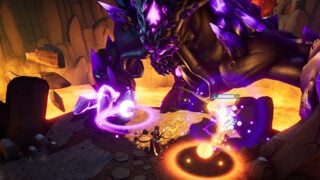 Team17 will publish Stormind Games-developed action RPG Batora: Lost Haven when it launches for PlayStation 5, Xbox Series, PlayStation 4, Switch, and PC via Steam in 2022, the companies announced. Registrations are available now to take part in a closed alpha for the game on PC beginning July 21.
"Following our big announcement at E3 of the upcoming PC alpha next month, we're thrilled to confirm we've found our publishing partner for Batora: Lost Haven," said Stormind Games CEO and co-founder Antonio Cannata in a press release. "Team17's heritage as an independent games label is incredibly strong, so it's a natural fit as we look towards next year's multiplatform launch."
Team17 head of external production Christie Sandy added, "We're really excited to play a part of Batora: Lost Haven's interplanetary journey with Stormind Games; it's an engaging narrative that really leans into eye-catching 1950s sci-fi inspired visuals and unique mechanics that will make the game a memorable experience. We're eager to see the response of action-RPG fans to next month's alpha, which will offer a tantalising taster of what's to come in the full game when it launches in 2022."
Here is an overview of the game, via its Steam page:
About

Batora: Lost Haven combines the features of a hack-and-slash and a twin-stick shooter in a nonlinear interplanetary story-driven action RPG.

What boundaries would you cross to save your home?

Avril used to be a regular 16-year-old girl, not what you'd call a natural-born hero. Until a mysterious event devastated the Earth, and she lost everything she cared for. Now she's the only one who, with the physical and mental powers that she has been gifted, can attempt to save her planet!

This is how her cosmic journey starts: soon enough, Avril will learn that the line between good and evil is thin. It's up to her to decide whom to believe: her choices will change the destiny of the universe.

Key Features

Physical and Mental Dualism – Find the perfect balance between your body and mind to face the challenges and enigmas you will find along the journey, but keep an eye on the double health bar: it tracks both your physical and mental health, and if you lose sight of one of them… you're dead!
Defender or Conqueror – Choose if you need to use your wits or strength in your interactions with the factions: decide who you want to become while you reach your goal, but be careful of the consequences…
Fast-Paced Multi-Layered Combat System – Quickly learn when to switch between physical and mental mode: sharpening your strategic dualism is the only way to keep pace with your opponents!
Retro Sci-Fi Visuals – Fill your eyes with the original hand-painted visuals inspired by the retro science-fiction art of the 1950s. You will visit colorful and fascinating planets, and meet the most intriguing creatures of the entire universe!
Responsive, Non-Linear Narration – Your choices will change the fate of the universe and of the creatures that inhabit it. Are you ready to take responsibility for your decisions? Find out all the possible outcomes of the storyline designed by a Writers Guild Award winner!
Watch a new trailer below. View a new set of screenshots at the gallery.