Square Enix and Team Ninja announce Stranger of Paradise: Final Fantasy Origin for PS5, Xbox Series, PS4, Xbox One, and PC
Trial Version available today for PlayStation 5.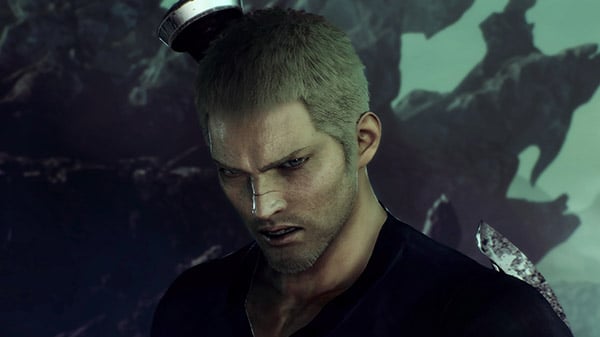 Publisher Square Enix and developer Team Ninja have announced action RPG Stranger of Paradise: Final Fantasy Origin for PlayStation 5, Xbox Series, PlayStation 4, Xbox One, and PC. It will launch in 2022.
A demo—Stranger of Paradise: Final Fantasy Origin Trial Version—is available now for PlayStation 5 through June 24 at 7:59 p.m. PT / 10:59 p.m. ET. A survey will follow from June 13 through June 30, accessible from the menu screen of the demo. (Update 06/15/21 at 8:00 a.m.: Square Enix has released a patch that fixes the issues with Stranger of Paradise: Final Fantasy Origin Trial Version.)
Here is an overview of the demo, via Square Enix:
The Stranger of Paradise: Final Fantasy Origin Trial Version was also announced during the showcase, which gives players the opportunity to experience a taste of the full game centering on Jack and his allies—Ash and Jed—as they throw open the gates to the Chaos Shrine. Burning with the resolve to defeat Chaos, and with the memories of their struggle buried deep in their hearts, are they the foretold Warriors of Light?

Players of the Stranger of Paradise: Final Fantasy Origin Trial Version can explore this dark fantasy world as they battle an array of iconic monsters from the Final Fantasy series, using powerful spells and abilities from a sample of jobs including warrior, dragoon and black mage.
And here is an overview of the game, with comments from the developers:
About the Game

■ What is Stranger of Paradise: Final Fantasy Origin?

Stranger of Paradise: Final Fantasy Origin is an action RPG that takes the Final Fantasy series in a bold, new direction.

With the memory of their struggle buried deep in their hearts… Jack and his allies, Ash and Jed, burn with resolve to defeat Chaos as they throw open the gates to the Chaos Shrine. Yet doubts remain—are they truly the Warriors of Light the prophecy foretold?

Step into a world of dark fantasy and revel in the exhilarating, action-packed battles!

■ Characters

Jack (voiced by Mocean Melvin in English, Kenjiro Tsuda in Japanese)

Strongly believes that defeating Chaos is his duty. Shows no hesitation about killing any monsters that stand in his way, cutting them down without mercy.

Jed (voiced by Alejandro Saab in English, Yusuke Suda in Japanese)

A kind and cheerful soul, and Ash's equal in strength. Respects Jack deeply and idolizes his power.

Ash (voiced by Mark Neely in English, Atsushi Miyauchi in Japanese)

Supports the party with his cool and collected personality. Recognizes Jack's strength in battle and trusts him implicitly.

Story

Jack, Ash and Jed enter the shrine. Waiting for them at the end of their journey…

…a man in armor sits upon the shrine's throne, claiming he is the one who is "to become Chaos."

Battle

Switch between two selected jobs as you fight. Each job can equip different weapons and has its own unique attack style. Classic Final Fantasy series abilities appear alongside original weapon abilities. Characters' appearances will also change to reflect their equipped armor.

Use a soul burst to strike a finishing blow after depleting an enemy's break gauge. Turn enemies to crystal, and restore a small amount of Jack's MP by shattering them.

Sacrifice MP to temporarily strengthen Jack, knocking enemies back upon use and making it easier to break enemies.

Face powerful monsters obstructing your path—fierce enough to be bosses encounters in their own right.

Staff

Creative Producer: Tetsuya Nomura
Main Scenario: Kazushige Nojima (Stellavista Ltd.)
Developer: Team Ninja (Koei Tecmo Games)

Developer Comments

Tetsuya Nomura – Creative Producer

The initial concept for Stranger of Paradise: Final Fantasy Origin came up around the time following the release of Dissidia 012[duodecim] Final Fantasy. I was thinking to myself about making my next game into one that featured action elements in which locations are conquered, rather than the kind with battles against characters. Some time passed without anything coming of it, but separately I was also thinking to myself about another plan for a new series of Final Fantasy titles revolving around "the story of an angry man". Even more time passed, at which point I received a request for a new plan, so I combined these two ideas to come up with this.

While it is Final Fantasy, it feels different—but there's no doubt that the blood ofFinal Fantasy runs through its veins.

We've undertaken the challenge of finding this difficult middle ground for this mature and stylish title.

We need a little time until we're able to complete it, and while the battle system is a bloody one, it does links to the story, so I hope you'll use this opportunity to give it a try.

Kazushige Nojima – Story and Scenario

"It's not a hope or a dream. It's like a hunger. A thirst."

When I wrote this line, I felt like the story had been brought to life.

What drives them to want to defeat Chaos as much as they do? What, then, are their hopes and dreams?

It was in this moment that what used to be fragments and pieces of story came together in a powerful way. The story that I wrote—in what seemed like a single breath after penning that line—is Stranger of Paradise: Final Fantasy Origin. I think it turned out to be quite a memorable story that accompanies a game which prominently features brutal imagery.

Please enjoy!

Jin Fujiwara – Producer (Square Enix)

True to its label as "a bold new vision," this title is full of new undertakings that draw a clear distinction between it and previous Final Fantasy series titles. I can't divulge too many details at this stage, but we prepared a glimpse of these ambitions within the trial version, including the title's direction and overall image, so please enjoy.

I believe that the feedback we receive from all of you around the world is very important as we improve upon the title even further. Please send us your thoughts through the trial version survey or through social media.

I'm already looking forward to the day I'll be able to play this title with you.

Daisuke Inoue – Director (Square Enix)

This is a title that has been developed with the goal of bringing something new to sit alongside the many Final Fantasy titles in the series. I think it could be considered a side story in terms of how it is positioned.

There may be some people who were disappointed that this announcement was not a new, numbered title in the series, but this game contains ambitions within that even a mainline title may not have been able to achieve.

Grounded and challenging action created by Team Ninja. Our protagonist, sprayed with blood as he literally rips apart, throws, and pulverizing his enemies. The way he looks is almost as if—

Well, we have prepared this trial version with hopes of having players experience this new flavor that the title brings with it, even if just a little bit. As we are still in development, I think there may be some areas that are not perfect and may be that way for a while to come, but I hope you'll enjoy the trial version regardless.

Additionally, please let us know your thoughts on the game, whether it be positives or negative that you noticed—we will make great use of this feedback as we continue development.

Fumihiko Yasuda – Head of Team Ninja, Producer (Koei Tecmo Games)

Playing Final Fantasy IV 30 years ago is what made me aspire towards a career in the gaming industry, so I always hoped that someday I could be involved in the Final Fantasy series. When Team Ninja was working on Dissidia Final Fantasy, I was in charge of a different section, which meant that every night I filled my pillow with tears. I'm truly happy to be involved with a new Final Fantasy, and a title connected to its Origin at that.

Using the feedback that the players provide after playing the trial version, all of us at Team Ninja will work to make this a title that meets the expectations of not only action game fans, but also Final Fantasy series fans around the world!

Hiroya Usuda – Director (Koei Tecmo Games)

I grew up playing Final Fantasy since I was very young, so it is a great honor to have the opportunity to be involved with this title. Furthermore, I'm truly excited that Team Ninja is able to deliver the first full-on action game in the Final Fantasy series to the world.

In this trial version, we've made specific demo-oriented adjustments so that players of all styles will be able to enjoy it—we have incorporated elements such as multiple jobs and weapon types, adjustable difficulty levels, and great replayability. Please let us know your thoughts and feedback once you have given it a try!

Nobumichi Kumabe – Director (Koei Tecmo Games)

I'm glad we were able to announce this new Final Fantasy game—an action game in which Jack, a Warrior of Light(?), lays waste to monsters while being bathed in the spray of their blood. I'm a huge fan of the Final Fantasy series myself, so I'm going to work hard towards release so that this blood-stained Jack can become a hero!

This is a title developed with the characteristic Team Ninja level of difficulty in mind, but once you start getting the hang of it, you'll be able to defeat enemies in an exhilarating and satisfying way. I hope you will replay the trial version many times and try out the various weapons and abilities available.

The difficulty level can be changed as well, so one recommendation I have is to start playing on an easier difficulty and gradually raise it higher for a challenge!
Watch the announcement trailer below. View the first screenshots at the gallery. Visit the official website here.
Trailer
English
Japanese
Screenshots