Control co-op spin-off Project Condor announced for PS5, Xbox Series, and PC; plans for bigger-budget Control game outlined
Bigger budget game "to be agreed in more detail in the future."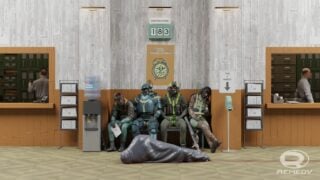 Publisher 505 Games and developer Remedy Entertainment have announced "Project Condor," a four-player cooperative multiplayer spin-off set in the world of Control for PlayStation 5, Xbox Series, and PC. It will be built on Remedy Entertainment's proprietary Northlight engine and tools.
Additionally, the companies "outlined high-level collaboration terms to further expand the Control franchise with a bigger-budget Control-game, to be agreed in more detail in the future."
"We are excited to continue and further expand our collaboration with Remedy," said 505 Games parent company Digital Bros Group co-CEOs Rami and Raffi Galante in a press release. "With over two million copies sold and revenue exceeding €70 million, Control is an extremely successful game. As a multiplayer game, Condor has the potential to engage the gaming community in the long run, contributing to 505 Games' product revenue stream longer than traditional games."
Remedy Entertainment CEO Tero Virtala added, "We have successfully collaborated with 505 Games for over four years and have both become stronger in our respective fields. We are happy to extend and deepen our partnership. This new agreement supports Remedy's aims to expand our games into long-term franchises, create benchmark-setting games, strengthen our commercial capabilities and collaborate with great partners with whom we can succeed together."
Control series game director Mikael Kasurinen also shared the following message:
Hi,

Today Remedy Entertainment and 505 Games announced that we have signed a new game, codenamed Condor, which is a spin-off set to expand the world we kicked off with Control. I want to take a moment to talk about the world of Control and our plans a bit more.

First, I want to thank everyone who's helped in making Control the success it is today, especially all the fans who love to step into the worlds we create. As a Game Director, it has been humbling to see the love and enthusiasm that the game instills, and I hope that during the time of COVID, Control has brought excitement and a hearty dose of strangeness into your lives.

Control is first and foremost a world, a place for multitudes of stories, events, and characters. A place where unexpected, strange, and extraordinary things occur. We kicked it off with Jesse's entry into the Oldest House, but there is more to this world. Oh, so much more.

And Project Condor will be an expression of that.

I love multiplayer games. In the glorious 90s (yes, I'm a true 90s kid) me and three friends of mine hooked our PCs into a local network. We were about to have the first LAN of our lives. I was excited to try out multiplayer with a little shareware game called DOOM. When we finally managed to get everything up and running, we fired up a co-op session and tackled E1M1 together. And it was a blast.

The familiar world felt so different when you entered it together with your friends. It changed everything.

In my professional career, I have focused almost solely on single-player experiences. Making the world revolve around one player allows an incomparable power fantasy, a total immersion of being somewhere else, anyone else.

But there is another side to games. A social, collective experience which you share with other people, your friends. And there's something about that sharing that can elevate it into an experience that is impossible to achieve alone.

Yes, Remedy as a studio has made single-player experiences for over 25 years. But we are also avid fans of multiplayer games—I remember us having company-wide Battlefield 1942 sessions when we were working on Max Payne 2. We even got a small clan running. We were terrible, but it was the fun we had together that mattered. There are worlds and experiences that you can access collectively, with your friends, and they can shine as brightly as any single-player experience does.

We get that there is going to be skepticism about multiplayer. But I believe we can create shared experiences without compromising the unique DNA of who we are, or the stories we want to tell. Yes, we need to re-think our angles, our techniques, our mindset, but we see it as an exciting challenge: What would a Remedy multiplayer game look like?

The Vanguard team has done awesome progress on that front already, and the possibilities there are extremely exciting. Both games will be different examples of how you can collectively experience our worlds.

We are approaching this with a mix of excitement and respect. We want to create something that is engaging, yet familiar, something any of our fans can jump into and feel at home in. Together.

But as said, Control is more than one location, character, or story. We have more. Something ambitious. As today's announcement stated, "have outlined high-level collaboration terms to further expand the Control franchise with a bigger-budget Control-game." I unfortunately cannot go into more detail than that, but suffice to say, I'm extremely excited for the future of the Control franchise.

Building games takes years. Establishing the right partnerships is crucial in order to form the right foundation, both financially, creatively, and from a technological standpoint. Rest assured, we want to build on the very foundation of Control and the success it had, thanks to you.

Which reminds me, many of you have asked for official Control merchandise. Come August, just in time for the second anniversary of Control, you will be able to finally get that. Stay tuned!

It is going to be a long time before we show off these projects. I'm going back to the lab for a while, but don't worry, there are other Remedy experiences coming from our studio that I know you will love.

Best,
Mikael Kasurinen
Game Director of the Control franchise