Ratchet & Clank: Rift Apart 'Weapons and Traversal' trailer
Buzz Blades, Blackhole Storm, Negatron Collider, and more.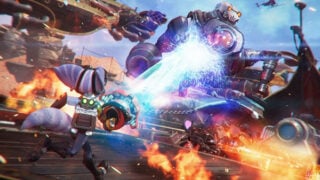 Publisher Sony Interactive Entertainment and developer Insomniac Games have released a new trailer for Ratchet & Clank: Rift Apart introducing the game's weapons and traversal.
"As you've come to expect from the franchise, Ratchet & Clank: Rift Apart features our signature roster of powerful weapons, including classics like the cutting-edge Buzz Blades, to new destructive tools such as the Blackhole Storm and Negatron Collider," said Insomniac Games senior community manager Aaron Jason Espinoza on the PlayStation Blog. "We're also amping up immersion by using the unique features of the DualSense wireless controller: pull the adaptive triggers all or halfway for specific weapons to unleash alternating shots of devastation, feel the force behind every blast through the controller's haptic feedback, and hear the clicks and ticks of your weapons via the built-in speakers."
Espinoza continued, "In addition to Ratchet & Clank: Rift Apart's staggering arsenal of weapons, we've also given Ratchet—and by extension Rivet, some new moves to use in and out of combat. Use the Rift Tether to transport yourself across battlefields, or activate the Phantom Dash to safely dodge and phase through incoming enemy attacks."
Ratchet & Clank: Rift Apart is due out for PlayStation 5 on June 11.
Watch the trailer below.