Puzzle Bobble VR: Vacation Odyssey interview with director Matt Bettelman
A deep dive into the upcoming virtual reality Puzzle Bobble.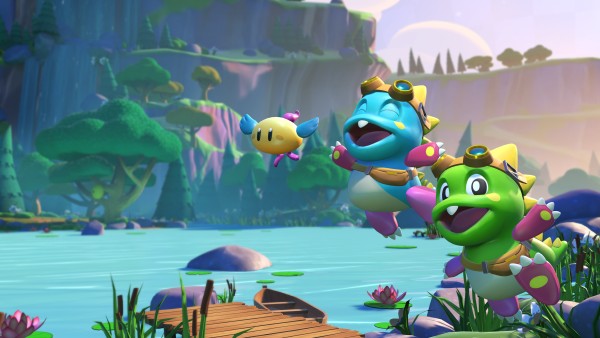 Gematsu recently spoke to Matt Bettelman, Survios game director of the upcoming Puzzle Bobble 35th anniversary game Puzzle Bobble VR: Vacation Odyssey.
In the email interview, Bettelman discusses how a virtual reality Puzzle Bobble game came about, translating the series' classic 2D gameplay into 3D virtual reality, powerups, multiplayer, working with the ZUNTATA music team, potential platform additions in the future, and more.
Get the full interview below.
Gematsu: How did the idea to make a Puzzle Bobble virtual reality game come about?
Matt Bettelman, Game Director: "At the outset of this project, a new Puzzle Bobble game was hardly a glimmer in our eyes. Initially, we had a very small team of developers working internally on a casual games initiative. The idea was to take some tried and true gameplay concepts from classic puzzle games and bring them into virtual reality. The playable prototype was a major turning point for the team. It enabled us to step back and realize that playing what amounts to a traditional 2D match-three game in virtual reality wasn't really taking full advantage of virtual reality as a medium. From there, the team started to think about what a bubble popping game would look like if it were built specifically for virtual reality from the ground up. When the opportunity came to partner with TAITO, we saw it as the perfect fit. That's when Puzzle Bobble VR: Vacation Odyssey really started to take shape for us."
Why did you choose the beach vacation theme over, say, a winter vacation? Or any other theme, for that matter?
Bettelman: "The beach vacation theme actually came from TAITO. They've been an incredible partner to work with. They've trusted that virtual reality is our area of expertise, so they've been incredibly supportive in giving us the freedom to make Puzzle Bobble VR: Vacation Odyssey the most intuitive and engrossing experience it can possibly be. At the same time, they're very careful stewards of their IP and worked closely with us to make sure every detail was correct. Our art team here at Survios spent a long time at the beginning of the project translating TAITO's classic characters and aesthetic into 3D, and TAITO was with us every step of the way in that process. The end result is an astoundingly colorful, playful, vibrant environment that is brimming with chill island vibes."
There hasn't been an all-new Puzzle Bobble game in quite some time. How difficult was it to create the first new entry in the series in over 10 years?
Bettelman: "The team was beyond excited to have the opportunity to work with TAITO and put our mark on such an iconic franchise. As a games creator, it's not often that you're asked to breathe new life into a bedrock of beloved gameplay that dates all the way back to the golden era of arcade games. As a team, we saw this as a massive opportunity to continue the legacy of Bubble Bobble and Bust-a-Move. The fact that Puzzle Bobble VR: Vacation Odyssey is the game that will commemorate Bub's 35th anniversary makes this all the more special for us."
How did the shift from 2D to 3D virtual reality first-person perspective get you to think about your approach to the tile-matching puzzle genre?
Bettelman: "Translating the classic gameplay of Puzzle Bobble from 2D into 3D required the team to deconstruct what makes these games work at a high-level.
"An important part of Puzzle Bobble is the joy in discovering a skill shot that drops a bunch of bubbles off the bottom of the screen. In our game, the team successfully recreated that feeling by anchoring all of the bubbles to a core at the heart of the mass of bubbles. This gives players the opportunity to chip away at the outer layers of a level, and find places to make bigger matches closer to the core that can then disconnect a bunch of bubbles, just like in classic Puzzle Bobble.
"So, given that the levels are three dimensional and have depth, the obvious question is, 'How is the player supposed to deal with all the bubbles they can't see?' This is where the team brilliantly layered onto the core gameplay loop to make Puzzle Bobble VR: Vacation Odyssey truly bespoke for virtual reality. When players fire a bubble at the board, the board rotates in response, allowing access to the areas of the board they couldn't see previously. Not only that, but the game uses a realistic physics model to give the player greater control over how the board rotates. Depending on where you aim your shot, the gameboard will rotate end over end in that direction. Similarly, the strength of the player's shot will affect how far the game board rotates in response.
"As players work through the game, they will intuitively start to plan ahead to set themselves up for the next shot. It sounds more complicated than it really is in practice. The team definitely hit the right balance between easy to pick up and difficult to master.
"Ultimately, Puzzle Bobble VR: Vacation Odyssey represents our vision of how a Puzzle Bobble (Bust-A-Move) game would work if it were built from the ground up specifically for virtual reality."
What kind of power-ups can users expect?
Bettelman: "Across all three modes of the game, (Story Mode, Infinite Mode, and Duel Mode) players will earn coins simply by playing and progressing. They can then spend those coins to unlock three unique power-ups. There's the Bomb, which allows the player to explode a large chunk of the gameboard.
"We also have the Paintbrush powerup that players can use to select the color of their next bubble. The bubble they receive from the Paintbrush powerup produces a special painted bubble that will change the color of whatever bubbles it touches on the gameboard, so players can make a much bigger dent in the game board than with a normal bubble.
"The third powerup is the Spin Orb. This one lets you rotate the entire game board to exactly where you want it and is extremely useful in a situation where you know you've got the right bubble to make a big match, but the cluster of bubbles you want to hit is out of sight on the gameboard. Just grab the Spin Orb, use your hand to rotate it around like a globe, and set yourself up to make that big match."
What would you say is the most exciting feature in the game?
Bettelman: "For me it's definitely the powerups. In addition to having a strategic gameplay impact to help with popping bubbles, each of our three powerups has a unique and heavily physicalized activation method. These interactions were designed specifically with new virtual reality players in mind, as we strove to make using the powerups as intuitive and engrossing as possible.
"For example, when you activate the paintbrush powerup, we spawn a paintbrush in one hand and a painter's palette with a bunch of bright colored paint splotches on it in the other hand. So, naturally, to use the powerup and pick the color of your next bubble, you simply dip the paintbrush into the paint color of your choosing, easy as that."
Does Story Mode have an actual story? If so, what can we look forward to?
Bettelman: "Our Story mode tells an endearingly familiar tale that fans of the Bubble Bobble franchise should enjoy. As you play through the 100 levels of our Story Mode, the narrative plays out through cute and colorful comic panels. Essentially, the premise is that Bub and Bob are on vacation on a tropical island with Peb and Pab. Suddenly Bonner, the villainous wizard, shows up and encases the girls in bubbles before whisking them away. This dastardly deed is the catalyst for Bub and Bob to set off island hopping in an effort to track Bonner down and free Peb and Pab so they can resume their peaceful island getaway."
Two-player multiplayer returns in the form of Online Duels. Can you talk a little bit about how multiplayer was implemented in virtual reality?
Bettelman: "Puzzle Bobble VR: Vacation Odyssey offers an online Duel mode for you to play against your Oculus Quest friends or jump into Quickmatch and play against anyone online. This was our attempt to recreate the magic of Puzzle Bobble's original versus mode. Distilling the essence of that experience into virtual reality means two players, side by side, frantically matching an endless stream of bubbles where the winner is the player that can survive the longest. Want to see how close you are to beating your friend? Just turn your head and look over at their game board and see how they're doing compared to you.
"A key component for any good Duel mode in this franchise is the ability to spawn unwanted bubbles on your opponent's game board. In Puzzle Bobble VR: Vacation Odyssey, you can send jammer bubbles to your opponent by making a big enough match with your own Bubble Cannon.
"Figuring out the right time to deploy your powerups adds an element of strategy as well. Do you use your powerups to spawn some jammer bubbles for your opponent in an effort to trip them up? Or do you hold onto your powerups and save them in case you get into trouble and need to make a quick escape? Making the right decision there can often be the difference between victory and defeat."
Were there any attempts to implement a form of local multiplayer?
Bettelman: "For Puzzle Bobble VR: Vacation Odyssey's multiplayer offering we focused all of our attention on making our online Duel mode as good as it can be, and a worthy successor to the Puzzle Bobble franchise. We think both longtime fans of the franchise and more casual puzzle gamers will be really happy with it. That said, we do love local multiplayer in virtual reality here at Survios. It'd be really cool to experiment with that concept for future projects. Hopefully we'll have the opportunity to explore that idea going forward."
How was it working with ZUNTATA to create the new songs featured on the game's soundtrack?
Bettelman: "The ZUNTATA team was great to work with. For Puzzle Bobble VR: Vacation Odyssey, they provided their memorable and classic tunes for us to work with and also created a couple of new songs for the virtual reality game.
"Anytime I hear the classic background music from the original Puzzle Bobble it immediately raises my spirits, and the version of it ZUNTATA provided for us is no exception."
Are there any plans to bring Puzzle Bobble VR to additional virtual reality platforms such as PlayStation VR or SteamVR?
Bettelman: "At this time, we don't have a definitive answer, but we are looking into other platforms for Puzzle Bobble VR: Vacation Odyssey to call home. If you'd like to be notified when we have official news, please sign up for our Survios newsletter at PuzzleBobbleVR.com or follow us on social media @Survios."
How reliant on virtual reality would you say the game is? Would you rule out versions for non-virtual reality platforms in the future?
Bettelman: "Puzzle Bobble VR: Vacation Odyssey was very much designed from the ground up with virtual reality in mind, and we're so excited to be bringing it to Oculus Quest. Now that said, taking a game like this and bringing it to non-virtual reality platforms sounds like a really interesting set of new challenges for the team. Here at Survios, we're not ones to shy away from a fun challenge. So, while we certainly wouldn't rule anything out, we don't have any announcements to make regarding a non-virtual reality mode at this time."
Are there any plans for post-launch updates or downloadable content?
Bettelman: "Let's wait until after launch and we can revisit this topic. Stay tuned for more!"
Is there anything else about Puzzle Bobble VR or working on the game that you would like users to know?
Bettelman: "We are so excited to partner with TAITO and to bring Bub and Bob into virtual reality for the first time ever! Puzzle Bobble VR: Vacation Odyssey launches on Oculus Quest and Quest 2, May 20 2021. You can wishlist the game now on our Coming Soon page. You can visit our website at PuzzleBobbleVR.com or follow us on social media at @Survios."
Thank you for your time, Matt!
Puzzle Bobble VR: Vacation Odyssey is due out for Oculus Quest and Quest 2 on May 20.