Back 4 Blood 'Card System' trailer
The Game Director choreographs your world.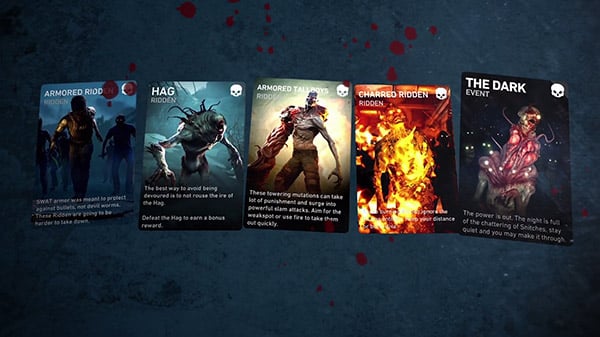 Publisher Warner Bros. Interactive Entertainment and developer Turtle Rock Studios have released a new trailer for Back 4 Blood introducing the game's unique card system.
Here is an overview of the system, via the trailer:
[Back 4 Blood] utilizes the system of advanced AI known as the Game Director. The Game Director works behind the scenes monitoring players' actions, health, and choices, then responds by choreographing the world around them. Each player gets a roller coaster ride and no run will ever be the same."

A cornerstone of an unforgettable game is replayability. With Back 4 Blood, the Game Director takes that pillar to another level by managing an innovative new card system. It starts with the Deal. As you jump into a mission, the Game Director will play a set of Corruption Cards. Corruption Cards can modify environmental conditions, add challenges, and send special Ridden mutations your way.

After the Director plays their cards, you and your team get to play yours. You can jump right into the action by choosing a pre-made deck or dig into Back 4 Blood's vast customization. It's your choice how deep you want to go.

Each player gets dealt a set of cards from their deck and can strategize with their friends over which to play. These cards offer buffs and bonuses that can amplify any playstyle you choose.

[..]

As you prove your grit taking down the Ridden, there are tons of different cards you can earn. Take on optional challenges and objectives—you'll earn supply points and unlock new cards. You can even use your supply points to unlock cosmetic skins to customize your character.

Once all the cards are on the table, you're ready to get back out there for even more carnage. The Game Director will adapt each mission to be dynamic and intense. Always offering new challenges to make sure no playthrough feels the same as the last. You and your friends will need to think on your feet to overcome anything the Game Director throws your way.

Find yourself constantly overrun by Ridden? Try shifting up your style by equipping cards that support your team with a medic build, or play using your demolition build and fill your deck with explosive modifiers that leave the Ridden in pieces. Of course, you can always get up close and personal with a melee build, and focus on hacking and slashing.

Play your cards. Slay the Ridden with your crew. Earn epic rewards. Then jump back in for a fresh new experience… every time.
Turtle Rock Studios also noted that "cards will not be available for purchase via any in-game storefront or first-party storefront." Some cards will likely be included in post-launch paid content drops, but "in a way that ensures those drops will not be pay-to-win." New cards are also planned for release post launch "that everyone can earn and enjoy, whether you've bought content drops or not."
Back 4 Blood is due out for PlayStation 5, Xbox Series, PlayStation 4, Xbox One, and PC via Steam and the Epic Games Store on October 12.
Watch the trailer below.