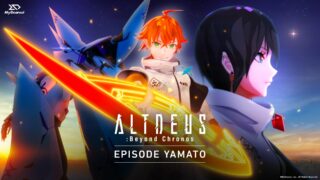 MyDearest has announced ALTDEUS: Beyond Chronos downloadable content "Episode Yamato." It will launch first for the Oculus Quest 1 and 2 versions in early June.
Here is an overview of the downloadable content, via its official website:
About

Experience the dramatic, scenes in a certain route from Yamato's point of view in this new scenario.

This time, you'll be charging into a new battle in the cockpit of the Ares Makhia, with a sword in your metal hands and a decision to make.

Note that this downloadable content is strongly connected to "The Celestial Crade" ending of the game.

Story

A brand new story experienced from the perspective of Yamato.

Facing away from Prometheus, Chloe attempts to escape, taking Anima with her. Yamato stands in her way, carrying the hopes of his comrades, to bring her back—or die trying.

Key Features

The Swordstrike System – Wield and experience the awesome power of Ares Makhia's sword.
Multiple Endings – A branching story with multiple endings, where your decisions in combat determine your fate. When you have to face off against the friend you've sword to protect, will you be able to swing your blade?
ALTDEUS: Beyond Chronos is available now for PlayStation VR, SteamVR, and Oculus Quest 1 and 2.
Watch a trailer below.