Touhou Project visual novel Hifuu Fragment coming to Steam in 2021
Due out in 2021.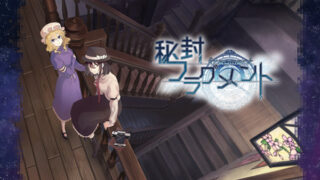 Publisher Phoenixx and developer Shikaku Games will release Touhou Project visual novel Hifuu Fragment for PC via Steam in 2021, the companies announced.
Hifuu Fragment first launched for PC via Booth and Melonbooks in March 2020.
Here is an overview of the game, via Phoenixx:
Summary

The era of science.

A future where "Hiroshige," a completely underground bullet train that goes between the capital city of Kyoto and Tokyo in 53 minutes, is currently in service.

And where Maribel Hearn and Renko Usami have yet to meet.

Fragments

The "Fragments" system pays respect to the "ANOS" series by Jitensha Sougyou, and has greater gameplay systems than traditional novel games. Freely select words from the "Fragments" obtained during the story, generate "keywords" that are the keys to the story, and set them to branch out the scenario and see new developments. Carefully read the dialogue between the two characters, and decode the keywords.

A Novel Game that Changes in Real-Time

The text is not the only thing you should pay attention to. As situations in the dialogue change, so do the necessary operations. Pay attention as not to overlook any elements required to branch out the story.
Watch the Steam announcement trailer below.