Tales of Arise adds PS5 and Xbox Series versions, launches September 10
Latest trailer and eight minutes of gameplay.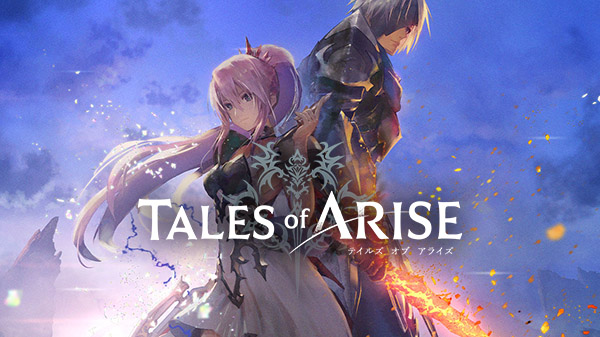 Tales of Arise will launch for PlayStation 5, Xbox Series, PlayStation 4, Xbox One, and PC via Steam on September 10 worldwide, Bandai Namco announced. The PlayStation 5 and Xbox Series versions are newly announced. In Japan, the console versions will be available a day earlier on September 9. The game is available to pre-order now both physically and digitally across all platforms.
The following pre-order bonuses and special editions were also announced:
Pre-Order Bonuses

New costume for Alphen and Shionne
Outfit accessories
New cooking recipes and ingredients

Digital Deluxe Edition

Premium Item Pack – Contains gold, cooking items and Boosts
Premium Costume Pack – Eight full costumes and six accessories
Premium Travel Pack – Better cooking and crafting abilities and discounts in shops

Digital Ultimate Edition

All content found in Digital Deluxe Edition
Additional costumes for playable characters and special costumes in collaboration with other Bandai Namco franchises.

Collector's Edition (sold exclusively through Bandai Namco's Online Store)

Standard Edition of Tales of Arise
Exclusive 18-cm Alphen and Shionne figurine
Steelbook case
64-page hardcover art book
Physical CD soundtrack
"We want Tales of Arise to represent a new milestone for the Tales of franchise," said Tales of Arise producer Yusuke Tomizawa in a press release. "The game has a new artistic direction, making the most out of the Unreal Engine and our newly developed 'Atmospheric Shader' to push the graphics and quality and make players feel like they are in a painting. With a story that is more mature and hits on more essential themes than previous games we hope players will be fully immersed in Alphen and Shionne's journey. We can't wait for you to be able to play the game later this year."
Here is an overview of the game, via Bandai Namco:
About

Tales of Arise follows the story of Alphen, an iron-masked individual whose home planet of Dahna has been enslaved and stripped of natural resources for the past 300 years by the nearby planet of Rena. As Alphen fights to free his people he encounters Shionne, a girl from Rena who is on the run from her countrymen. Both Alphen and Shionne will be joined throughout the journey by a supporting cast of characters to help in their fight for freedom.

Tales of Arise carries the DNA of the much-loved Tales of franchise while also introducing advanced graphics and an evolved combat system to help push the series into the future. A new "Atmospheric Shader" developed by Bandai Namco Studios adds subtle touches to the look and feel of the world evoking a hand-drawn painting. Combat has also evolved, allowing for a better sense of spectacle and direct player feedback based upon their actions. The graphics, combat system, characters, and story all work together to present a vivid and realized world that will immerse players as they are transported to the many environments and biomes they will explore throughout their time with Tales of Arise.

Key Features

A World of Nature Drawn with the "Atmospheric Shader" – We are introducing a new graphics shader, inspired by anime and watercolor painting. Characters with attractive designs travel among backgrounds filled with beautiful and delicate visuals.
Explore a World that Feels Alive – Explore the world of Dahna, where a mix of unique, natural environments change in appearance based on the time of day. Climb over the rocky terrain, swim in rivers, gather around the campfire, cook food, head to the next town, defeat the master of an alien planet, and liberate the people!
Stylish Action and Battles – Through the new system "Boost Strike," you can now chain combos of powerful attacks together with your party members. Chain Artes, Boost Attacks, and Boost Strike combos to take down your enemies!
Experience the Story of the Divided Renan and Dahnan People – The protagonists who will determine the fate of these two worlds are Alphen and Shionne. They will overcome hardships and grow together with their unique group of friends. Gorgeous animation by ufotable is inserted at key points in the story, adding more color to our protagonists' journey.
Bandai Namco also revealed two new party members:
Voice Actor: Sayuri Hara
Race: Dahna

A girl who appears in front of Alphen and Shionne, strengthless, on the verge of death. She joins Alphen in request to rescue the resistance force of Cyslodia. Normally, Astral Artes can only be used by the Renan but she, regardless of being a Dahnan, is capable of using artes.

Hootle is a pet owl from Dahna that journeys with Rinwell as her sidekick.

Voice Actor: Yoshitsugu Matsuoka
Race: Dahna

A boy from Calaglia. Despite being Dahnan, he works as a member of "Bull's Eye," Rena's police system, and stands in the way of the party when the arrive at Cyslodia.

A young man working for Cyslodia's Bureau of Observation tasked with apprehending dissidents. An outstanding fighter who uses all four of his limbs as his weapons, he unleashes string after string of attacks like it's a mere demonstration, unfettered by any counterattacks that come his way.
Yusuke Tomizawa shared further information in a newly published interview with Famitsu:
Development is going well, and from this point only final adjustments remain. Tomizawa is confident there will be no future delays and that the game will meet its September launch.
Tales of Arise supports the DualSense wireless controller's haptic feedback functionality on PlayStation 5. For example, you will feel the difference when using lightning magic versus fire magic.
The PlayStation 4 and Xbox One versions will include a free upgrade to the PlayStation 5 and Xbox Series versions.
The game will support performance (60 frames per second) and graphics (4K resolution) priority modes.
Anime scenes are produced by Ufotable. Tales of Arise has the largest volume of anime scenes in the series yet.
Two (three) new characters were revealed: Rinwell (voiced by Sayuri Hara) and her mascot companion Fururu, and Law (voiced by Yoshitsugu Matsuoka). Like Alphen, Rinwell and Law are from planet Dahna. But while Alphen and Shionne are adults, the new characters may be younger.
There are more party members to be announced, including characters from planet Rena.
A new enemy character named Balseph (voiced by Fumihiko Tachiki) was also revealed. He is extremely violent and does not consider the people of planet Dahna to be humans. A lord known as a "Surdo," he enslaves the people of Dahna and is gathering the spiritual power of fire, but seems to be in a hurry to achieve better results than the other Surdo. A single swing of his giant ax can be fatal if hit directly.
"Boost Attack" is a support action that can be performed as many times as you like in battle given the required conditions are met. Each character has their own role and effects. You control a single character, and when the time comes, can unleash a support attack to create a combo.
"Boost Strike" is a finisher attack. After lowering the enemy's HP to the verge of full depletion, you can finish them off with this skill. The Boost Strike scene will change depending on the combination of characters. These are different from Mystic Artes.
Series conventions such as Mystic Ates, Artes, and Skills will return. But just like other titles, how you activate Mystic Artes differs.
Evasion is one of the main actions in battle. Attack enemies while dodging their attacks, then follow up with more attacks. Tomizawa describes these as "speedy battles where you can see through the enemy's attacks and follow up with a counterattack." Most enemy attacks can be dodged. But because battles are speedier than previous games, there will also be difficulty settings and an auto functionality for those who many not be good at action games.
There is no victory screen after battle. Battles begin immediately upon encountering an enemy, and if you win, you return to the field immediately. However, you can enjoy conversations between characters on the field post-battle.
You can explore the more-three-dimensional fields with basic actions such as free jumping and swimming.
Tomizawa wants to provide an opportunity for users to experience the game ahead of release, but is still considering the specifics given the ongoing COVID-19 pandemic.
Watch a new trailer, gameplay video, and developer message below. View a new set of screenshots at the gallery.
Release Date Trailer
English
Japanese
Environment Trailer
Gameplay Showcase
English
Japanese
Character Gameplay
Alphen
Shionne
Rinwell
Law
Combos and Mystic Artes
Boost Attack and Boost Strike
Developer Message
With English Subtitles
Without English Subtitles
Update 04/22/21 at 11:00 a.m.: Post originally published on April 21 at 11:00 a.m. Updated with additional information, trailers, and screenshots on April 22 at 11:00 a.m.