Square Enix and Hiro Mashima announce fantasy RPG Gate of Nightmares for iOS, Android
Character design and world creation by creator of Fairy Tail.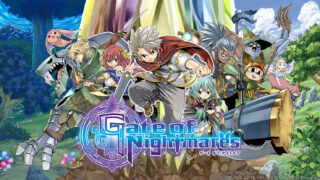 Square Enix has announced Gate of Nightmares, a monster summon fantasy RPG for iOS and Android featuring character design and world creation by Fairy Tail creator Hiro Mashima, scenario by Jin Fujisawa, and music by Yasuharu Takanashi.
Prior to the launch official service, Square Enix will hold a "test version hands-on event" where users can experience the game in a development environment. Participant recruitment will begin in the coming days.
Get the first details below.
■ About

Gate of Nightmares is a traditional fantasy adventure of swords and magic, set in both the "real world" where people live, and "Remulias," a world where people's dreams merge and manifest. When Emma, a girl who became a "Nightwalker" and commands monsters known as "Nightmares," which are born from bad dreams, encounters Azel, a mysterious boy the Nightmares like, she gets wrapped up in an adventure where the fate of the world hangs in the balance.

All the characters that appear in the game are newly illustrated by Hiro Mashima, and the scenario by Jin Fujisawa is fully voiced.

■ Characters

Azel (voiced by Yuuya Hirose)

The protagonist. Serious and passionate. He has a constitution liked by the Nightmares born from bad dreams.

Emma (voiced by Lynn)

The heroine. She encounters Azel when visiting Remurias for a quest, and from then on has to look after him…

Meruru (voiced by Atsumi Tanezaki)

A quiet and spontaneous girl shrouded in many mysteries. Her memories of the past are fuzzy.
Watch the announcement trailer below. Visit the official website here.