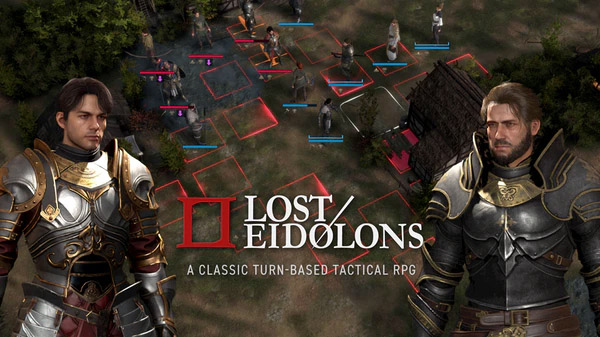 Ocean Drive Studio has launched a Kickstarter campaign for Lost Eidolons, its recently announced turn-based tactical RPG. It is seeking $45,000 in funding.
Rather than affect development of the core game, the funding secured by the Kickstarter campaign will enable Ocean Drive Studio to increase the scope of development and offer players additional in-game rewards, including:
Togglable "Permadeath" feature and an enhanced Hell Mode difficulty for those looking for serious challenges.
Leaving messages for players in the form of a tombstone in a graveyard for heroes.
Naming rights for NPCs and powerful items.
Discounted digital copies of the game.
"Our team's favorite games are turn-based RPGs and we want Lost Eidolons players to have that same great feeling we do when playing one of the best titles in the genre," said Ocean Drive Studio CEO Jae Kim in a press release. "We are eager to receive player feedback to help us iterate and improve Lost Eidolons, just like we've seen with multiplayer online games our team worked on before joining Ocean Drive Studio."
Lost Eidolons will launch first in Early Access for PC via Steam in Q4 2021, and will see a full release no later than Q4 2022. An Xbox release will be announced later. Ocean Drive Studio told Gematsu it also plans to make the game available on PlayStation and Switch.
Here is an overview of the game, via Ocean Drive Studio:
About

Lost Eidolons is a tactical turn-based strategy RPG set in a western fantasy world called Artemesia. Cycle between the tactical turn-based grid combat and an out-game unit management system to prepare, outwit, and prevail in each of the sequences and discover the outcome of the revolution.

The story follows Eden, a reputable mercenary in his hometown of Lonetta. When an aristocratic conspiracy causes his fall from grace, he is left with no choice but to follow the machinations of fate that will engross him into a ploy to overthrow the conquering Emperor, Ludivictus. A journey riddled with moral dilemma, bitter farewells, and emotional betrayal; Eden's journey will force him to discover who he really is on this grand stage.

Key Features

Strategic Turn-Based Tactical Combat – Leverage the terrain, careful positioning to execute synergistic effects, and the unique strengths of your army's composition to deal with any enemy encounter. How you employ your strategy allows you to minimalize casualties on the battlefield.
In-Depth Character Customization – Unlock new equipment, discover over a dozen unique combat classes, and arm your units with a varied selection of skills and spells that will help them seize victory.
Explore a Meaningful Outgame – Take time to strengthen the resolve of allies and see this effort yield powerful results on the battlefield. Leverage affinity with visiting NPCs in the camp to potentially earn new recruits. Strengthen your units by training with them and learn their stories in via their side quests.
A Carefully Crafted Classic Story – A story revolving around the bonds formed between comrades struggling for freedom in a continent marred by war and political turmoil, along with a backstory that is influenced by the mythos of the Four Symbols of the Chinese constellations.
Beautifully Orchestrated Original Soundtrack – Orchestrated by the talented composer Clark Aboud, the brilliant mind behind the score of memorable games such as Slay the Spire and Factory Town.
Watch the Kickstarter campaign launch trailer below.