LINE Games announces new titles for PC, console, and mobile – The Vanshee, Crystal Hearts 2, UNDECEMBER, Project HOUSEHOLD, and Quantum Knights
New titles announced at LINE Games Play Game 2021.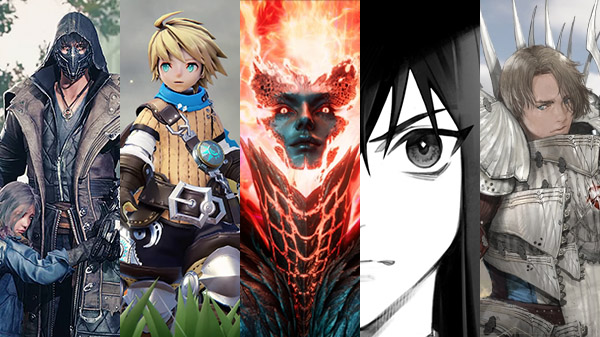 LINE Games announced five new flagship projects for PC, console, and mobile during its "LINE Games Play Game 2021" event in Seoul today.
Get the details below.
The Vanshee (PC)
Developed by Pixel Cruise and to be serviced by LINE Games, The Vanshee is an online action game for PC.

Set in a devastated world of the near future after an alien invasion, players will assume the role of a Vanshee, the one with special powers who will wield magic and alien technology to protect humanity from the threat of extinction.

The Vanshee is built with Unreal Engine 4 to present photorealistic graphics, which will help players immerse furthermore into the game's high-impact combo-based actions. In The Vanshee, there is no set class, and players will build their own characters by crafting and augmenting weapons to personalize one's combat style.

The Vanshee will be released first via Steam Early Access in 2021.
Crystal Hearts 2: Compass of Dimension (Mobile)
Crystal Hearts 2: Compass of Dimension is an adventure RPG currently in development by Netmarble F&C and to be serviced by LINE Games. It is a sequel to the mobile game Crystal Hearts (2016).

Set in Arkan Continent 20 years after the previous story, Crystal Hearts 2 presents the adventure of Logue and his companions, made alive with high-end 3D graphics that succeeds and enhances the series' soft colored, fairy-tale like artworks.

The game is accompanied with enhanced graphics comes rich strategic contents, which have been designed to allow for the player to have more control over the battlefield and utilize diverse character attributes for more sophisticated RPG experience.

Crystal Hearts 2 is being developed with rich in-game contents combining single and multiplayer elements and is scheduled to be launched in 2022.
Developed by Needs Games and to be serviced by LINE Games, UNDECEMBER is an RPG (hack-and0slash) built with Unreal Engine 4.

UNDECEMBER is focused around character customization, which is based on intricate item and skill systems. Each battle will be an evaluation and a guide to building one's own character, and the player will experiment with complex combinations of hundreds of skills and acquired items.

With their ever-evolving characters, players will enjoy the thrill of exploring dark dungeons and dive into the game's wide array of player-versus-enemy and multiplayer contents including co-op Party Dungeons, Raids, and competitive player-versus-player.

UNDECEMBER will be serviced in the second half of 2021 for mobile and PC (Steam and LINE Games FLOOR) with cross-play support.
Project HOUSEHOLD (Console)
Currently in development by director Seung Ho Jin of Studio LARGO, Project HOUSEHOLD is LINE Games' second in-house console game project after Buried Stars (2020).

As an "Occultic X Urban X Fantasy," Project HOUSEHOLD is set in modern-day Seoul and will revolve around the story of a group of psychics with an overarching main theme of family.

Building upon Studio LARGO's experience and insights accumulated from making adventure games, Project HOUSEHOLD will focus on a player-controlled combat system, best utilizing the development environment of console platforms.

Project HOUSEHOLD's specific service platform and release schedule is to be announced.
Editor's Note: Specific platforms were not announced, but Buried Stars was released for PlayStation 4, Switch, and PS Vita.
First unveiled during LINE Games' previous lineup announcement event in 2018 (LPG 2018) as Project NM, Quantum Knights is a PC online third-person shooter developed by Space Dive Games and to be serviced by LINE Games.

Quantum Knights is set in a medieval fantasy open world where magic and firearms coexist, and offers stylish action based on dynamic combat and movement mechanisms.

Each firearm featured in Quantum Knights has its own unique design and can be enhanced by carving in magic circles, which allows for the player to tailor the character's specialty and combat style accordingly.

Quantum Knights will be released on Steam and LINE Game FLOOR in 2022.