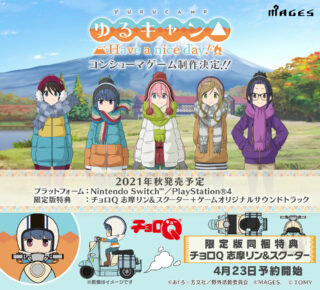 The Laid-Back Camp game recently announced by MAGES. is titled Laid-Back Camp: Have a nice day! and will launch for PlayStation 4 and Switch this fall in Japan, the company announced at the Laid-Back camp special event "Stay Tent" on April 11.
Laid-Back Camp: Have a nice day! will be available in both standard and limited editions. The limited edition will include a Choro-Q pullback car toy of Rin Shima riding her scooter, as well as the game's original soundtrack. Pre-orders will open on April 23.
Further details were not announced. Visit the teaser website here.