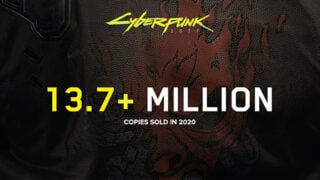 Cyberpunk 2077 sold 13.7 million copies in 2020, publisher and developer CD Projekt RED announced. The number is a company estimate based on information collected from distributors.
Cyberpunk 2077 launched for PlayStation 4, Xbox One, PC via Steam, Epic Games, and GOG, and Stadia on December 10, 2020. PlayStation 5 and Xbox Series versions are planned for release in the second half of 2021.
Despite its strong sales performance, the game had a rocky reception that led to its delisting from the PlayStation Store and various refund initiatives. It has yet to be relisted on the PlayStation Store. CD Projekt RED shared an updates roadmap back in January.