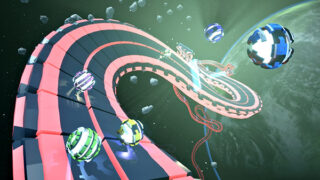 Publisher Rogue Games and developer Wonderful Lasers will release Super Impossible Road for PlayStation 5, Xbox Series, PlayStation 4, Xbox One, and PC in 2021, the developer announced.
On next-generation platforms, Super Impossible Road will boast real-time shadows, reflections, and volumetric lighting, as well as run at 120 frames per second.
Super Impossible Road first launched for Apple Arcade in September 2019. The game was originally announced for PlayStation 4 and PC several years earlier, but all mention of those versions disappeared when the game resurfaced as an Apple Arcade title.
Here is an overview of the Apple Arcade version, via the App Store:
About

In the future, you've got to play a little dirty if you want to win races.

In the future, you've got to play a little dirty if you want to win races. Master hairpin turns across dangerous courses that twist and coil over beautiful galactic backdrops. Knock opponents into the void of space. Kick into hyperdrive with temporary speed boosts. And use every opportunity to jump off the paths of the rollercoaster-like tracks, bypass gates and checkpoints, and roll over competitors on the way to first place and glory.

The spiritual sequel to the award-winning Impossible Road is back and more ferocious than ever with all-new modes, insane online play, and plenty more. So what're you waiting for? Crack those knuckles and jump in to the fastest, craziest, most spectacular racer on Apple Arcade.

Key Features

Race online with up to eight players at once.
Career mode features dozens of challenging levels and a multitude of modes.
Procedural generation creates a new track every time.
Robust single-player campaign and modes with leaderboards.
Full vehicle customization for boosting stats.
Play using intuitive touch controls, an MFi game controller, or DualShock 4 or Xbox controller.
Runs at a blistering 60 frames per second on newer devices.
Ambient electronica / techno soundtrack.
In related news, Rogue Games announced that it has raised $2.5 million to publish "batshit insane" independent games across consoles, PC, and mobile devices. It is currently in talks with "probably a dozen development studios" about the projects, according to Rogue Games CEO Matt Casamassina.
View the first screenshots of Super Impossible Road on next-generation consoles at the gallery.