Sumzap, Drecom, and Bushiroad announce cross-media project D_CIDE TRAUMEREI with mobile game and anime
Both due out this summer in Japan.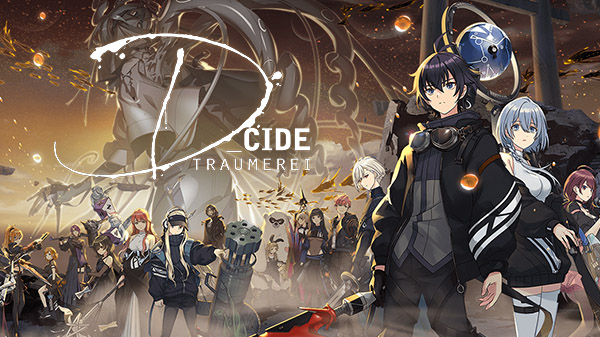 Sumzap, Drecom, and Bushiroad have announced D_CIDE TRAUMEREI, a large-scale cross-media project consisting of a mobile game and Sanzigen-produced anime. Both will launch this summer in Japan. Pre-registration for the mobile game is available now.
Character designs for D_CIDE TRAUMEREI were drafted by illustrator Kukka, while the story and character concepts were drafted by Tadashi Satomi, who is best known as the scenario writer for Revelations: Persona, Persona 2: Innocent Sin and Eternal Punishment, and The Caligula Effect. The theme song "Kemono no Kotowari" was written by Ringo Sheena, composed by Seiji Kameda, and arranged by rock band Tokyo Jihen.
Here is an overview of the game, via its official website:
■ Story

Crush the "Weird"—nightmares that have corroded reality.

Surrounded by the blue sea, Yura Island is a magnificent, untouched natural setting.

During his high school days at Wadatsumi Academy, Rando Furukata gets wrapped up in a gruesome, unnatural death.

Chosen as a "Knocker-Up" who travels between the worlds of dream and reality, Rando enters a nightmare from which he will never awaken…

■ Systems

Adventure Parts

Experience a rich story with expressive characters on a "nostalgic island" and in a "fantasy dream world."

Bond with Your Companions

Spend time with your companions to deepen your bonds. Deepening your bonds may also be the key to solving the island's mysteries.

Fight Against Nightmares

Fight against nightmares in a simple, but highly strategic turn-based command battle system. Utilize "Over Mode" to finish the battle with an instant blow.

■ Cast

Rando Furukata (voiced by Hisayoshi Suganuma)
Eru Amami (voiced by Kaoru Sakura)
Shuuichi Ooneya (voiced by Hiroshi Kamiya)
Ariya Touda (voiced by Risa Tsumugi)
Mugen Miura (voiced by Yuichi Nakamura)
Maria Nanase (voiced by Aina Aiba)
Hana Usami (voiced by Mai Aizawa)
Riku Eda (voiced by Tomokazu Sugita)
Maron Tomasu (voiced by Shiori Mikami)
Juri Hanno (voiced by Yuu Kobayashi)
Hazuki Sakurai (voiced by Naomi Ohzora)
Eiji Saruba (voiced by Kazuya Nakai)
Rin Hario (voiced by Wakana Kingyo)
Ryuuhei Oda (voiced by Yohei Azakami)
Rena Mouri (voiced by Ayasa Itou)
Eri Ibusaki (voiced by Marika Kouno)
Aruto Fushibe (voiced by Shun Horie)
Jessica Cleiborn (voiced by Aoi Yuuki)
Aki Minato (voiced by Marina Inoue)
Tris (voiced by Haruna Momono)
Watch the announcement trailer and presentation event archive below.
Announcement Trailer
Presentation Event Archive