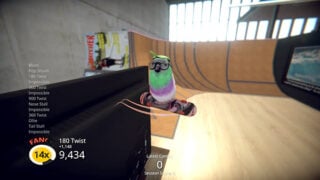 Glass Bottom Games has released a new developer video for avian action sports game SkateBIRD introducing a new stage.
Here is an overview of the footage, via Glass Bottom Games:
Putting a new spin on the "daily grind," this stage is teeming with spots to session, as supplies like staplers make for ideal bird-sized shredders.

The all-new gameplay is paired with commentary from narrative lead Xalavier Nelson, showing flocks of fans the process of creating the most extreme (and adorable) skating game around.

Perform sick tricks and link up combos for high-flying lines across courses like the Office, Rooftop, and Bedroom. Shred magazine pipes, launch off kicker ramps made from erasers, and grind pencil rails while unlocking fly new gear.

Whether kickflipping the night away or cruising between bedposts, every skater needs some tunes to accompany a session. Import your own MP3s for a custom soundtrack or groove out to lo-fi birb-hop beats accompanying every run.
SkateBIRD is due out for Xbox One, Switch, and PC and Mac via Steam in 2021.
Watch the video below.