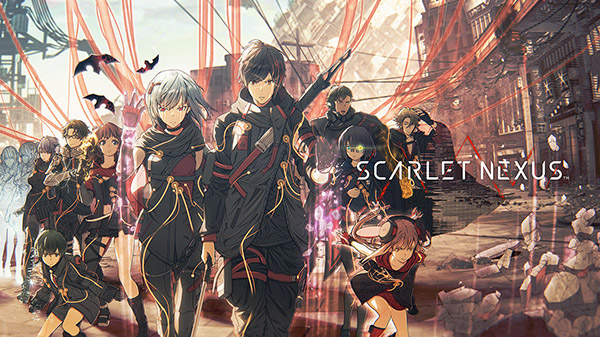 Scarlet Nexus will launch for PlayStation 5, Xbox Series, PlayStation 4, Xbox One, and PC via Steam on June 25, publisher Bandai Namco and developer Bandai Namco Studios announced. In Japan, it will launch on June 24.
The game will be available in a $59.99 standard physical and digital edition, as well as a $79.99 digital Deluxe Edition. The latter will include:
The full game
Battle attire set "Red"
Digital soundtrack
Digital art book
Additional attachment "The Others"
Pre-orders are available now and include the following in-game cosmetics as a bonus:
Special battle attire set "Audio"
Additional attachment "Face Vision: Seal"
Additional attachment "Dream Catcher"
Additional attachment set "Shoulder Baki (11)"
Here is an overview of the game, via Bandai Namco:
About

In the far distant future, a psionic hormone was discovered in the human brain, granting people extra-sensory powers and changed the world as we knew it. As humanity entered this new era, deranged mutants known as Others began to descend from the sky with a hunger for human brains. Highly resistant to conventional attack methods, extreme measures needed to be taken to battle the overwhelming threat and preserve humanity. Those with acute extra-sensory abilities, known as psionics, were our only chance to fight the onslaught from above. Since then, psionics have been scouted for their talents and recruited to the Other Suppression Force (OSF), humanity's last line of defense.

Featuring a dual story, begin your adventure with either Yuito Sumeragi, an energetic recruit from a prestigious political family or Kasane Randall, the mysterious scout whose power and skill has gained great notoriety among the OSF. As their different experiences interweave with each other, it is only then that you will reveal the full story and unlock all the mysteries of a Brain Punk future caught between technology and psychic abilities in Scarlet Nexus.

Key Features

Kinetic Psychic Combat – Using psycho-kinetic abilities, the world around you becomes your greatest weapon. Lift, break, and throw pieces of your environment to build your attack combos and lay waste to your enemies.
Exterminate the Others – Deranged mutants that descended from the sky, highly resistant to conventional attack methods and defenses. Tormented by the constant pain of their mutation, they seek brains of living organisms to calm their madness.
Discover a Brain Punk Future – Explore and protect a futuristic Japanese landscape that combines inspirations from classic anime and western science fiction.
A Dual Story Experience – Dive into a complex story of bonds, courage and heroism, crafted by minds behind the iconic Tales of Vesperia.
Bandai Namco also announced that Sunrise will produce a Scarlet Nexus anime series set to air this summer. Here is an overview of the story and characters, via its official website:
Story

Link your minds, unlock the future.

In 2020 of the solar calendar, grotesque organisms called Others have begun eating people. To take down this new enemy, the Other Suppression Force is formed. Saved by this elite team as a child, psychokinetic Yuito enlists, bravely withstanding the training. On the other hand, prodigy Kasane was scouted for her abilities. But Kasane's dreams tell her strange things, dragging the two into an unavoidable fate.

Characters

Yuito Sumeragi (voiced by Junya Enoki) – After the OSF saved Yuito as a child, he began to admire them, dreaming of joining their ranks. For the next few years, he worked hard and eventually voluntarily enlisted, despite not being scouted. Yuito was born into an elite family with direct lineage to the founding father of New Himuka, Yakumo Sumeragi. He's strong and kind and possesses psychokinesis or the ability to move objects with his mind.
Kasane Randall (voiced by Asami Seto) – Adopted by the prestigious Randall family, Kasane was scouted and joined the Other Suppression Force Training School, graduating top of her class. Though they are not blood-related, she has a very strong love and sense of attachment for her older sister Naomi. Kasane is cool and rational, but sometimes misunderstands things. Her power is psychokinesis.
Bandai Namco will also host a release date announcement commemoration live stream on March 24 at 19:30 JST. You will be able to watch it on YouTube. Presenters include Junya Enoki (Yuito Sumeragi voice actor), Asami Seto (Kasane Randall voice actor), Keita Iizuka (Bandai Namco Entertainment producer), and Kenji Anabuki (Bandai Namco Studios director).
Watch a new set of trailers below.
Kasane Trailer
English
Japanese
English
Japanese