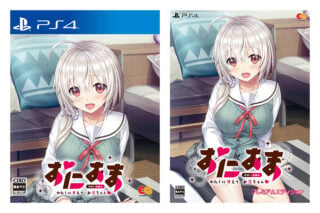 Entergram will release Prekano-developed romance visual novel Oni Ama: Watashi ni Amaete, Onii-chan for PlayStation 4 on July 21 in Japan for 3,278 yen, listings at retailers such as Amazon Japan and Yodobashi reveal.
In addition to the standard edition, a limited edition including a B2 tapestry, Kotoya Tamaki-written short story, and original soundtrack will also be available for 7,678 yen.
Oni Ama: Watashi ni Amaete, Onii-chan first launched for PC in January 2020 in Japan.
Here is an overview of the game's story, via VNDB:
Although the protagonist got a job in the city, he was tired of his daily life due to the work pressure.

One day his younger childhood friend Akane, who attends a school to become a nursery teacher, decided to stay at his house for a week to train at a nursery nearby.

However, the protagonist has zero ability for household chores, it is not good at cleaning, washing, cooking and his room is a mess.

"As a thank you for allowing me to stay at you house, I'll take care of you for a week, onii-chan."

And so, begins a week living with her childhood friend who aims to become a nursery teacher.

"Be sure to spoil me a lot, onii-chan."
Update 03/25/21 at 7:30 a.m.: Entergram has opened the official website, confirming a seemingly digital-only Switch version will launch alongside the PlayStation 4 version. The title has been updated to reflect this information.