Quantum League for PC launches April 15
Early Access version currently available at a 50 percent-off discount price.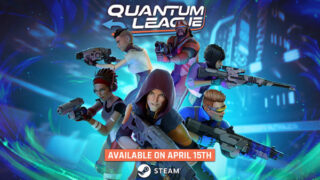 First-person arena shooter Quantum League will exit Early Access and launch for PC via Steam on April 15, developer Nimble Giant Entertainment announced.
To celebrate the announcement, the Early Access version, which will update to the full release upon launch, is available at a 50 percent-off discount price of $9.99 until March 16.
Quantum League first launched in Early Access in May 2020, and has been updated with new mechanics, arenas, playable characters, weapons, and game modes over the past year.
New features available in the full release version include:
Nordic – This map will be available upon launch both for 1v1 and 2v2 matches of Point Capture. It brings a cool snowy environment and has different levels to it created to incentivize strategic plays.
ADS – Apart from the Rifle Scope, we added true ADS for the Blaster, SMG, Shotgun, and the Laser. Now, weapons transition between hip fire and ADS, allowing for a better and more complete first-person shooting experience!
Abilities – Each athlete has been equipped with an ability that gives them more personality and making each match more unique. Your playstyle, the arena and game mode, your teammate picks, everything has to be taken into account when choosing your athlete before a match!
Quark Bundles – Now you can Buy Quark Bundles and get your favorite athlete outfits and weapon skins right away! There will be an amazing new reward track coming to the game upon launch and a bigger selection in the store so we got you a Quark Code as a part of the celebration and to get you started. Type LAUNCH in the game menu to get 6000 Quarks.
Here is an overview of the game, via its Steam page:
About

It's an alternate universe where time travel manipulation has changed the face of professional sports as we know it. Quantum League, a heavily weaponized team-based shooting sport, dominates the globe.

As a Quantum Athlete, compete in 1v1 and 2v2 matches in specially designed arenas with a time loop feature that rewinds and revives you, allowing you to tactically team up with yourself. Your goal is to dominate the sport's rankings, chasing superstar status with rewards of great fame and wealth as you progress. But agility, speed and skill are not enough to rise to the top. The ability to tactically play with yourself is important too!

Key Features

Unique Time Loop Game Mechanic – Dominate each round by taking advantage of the cloning time-loop in each arena to outmaneuver your opponent. Consider where you were and where you want to be to make that final winning shot, turning the tide of battle in an instant.
Multiple Options for Combat – play solo against an online opponent in 1v1 battles or dial up to the power of 2 in 2v2 multiplayer matches. Chase the top of the competitive leaderboard for global recognition!
Play in Different Game Modes – including death match and capture point across 9 different arenas.
Choose from six different characters to play and level up as you progress unlocking new outfits and styles as you evolve.
Select from six different weapons and head into the Quantum Arena!
Console versions of Quantum League are also planned, but have yet to receive a release date.
Watch a new set of trailers below.
Release Date Trailer
Nordic Night Sneak Peek