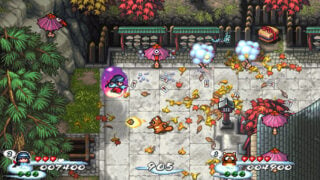 Pocky & Rocky Reshrined, previously known as Pocky & Rocky 2021, will launch for PlayStation 4 and Switch this fall, publisher Natsume and developer Natsume Atari announced.
Here is an overview of the game, via Natsume:
The adventures of Pocky & Rocky begin again in this new game in the original shrine maiden shooting series! Pocky & Rocky Reshrined is a multi-directional scrolling shooter with classic 16-bit style graphics, sound, and fun!

Pocky & Rocky Reshrined follows the adventures of a young Shinto shrine maiden named Pocky and her companion, Rocky the raccoon, as they take on the Nopino Goblins!