Nimbus INFINITY PlayPrime trailer, eight-minute gameplay video
First lengthy look at the upcoming high-speed mech action game.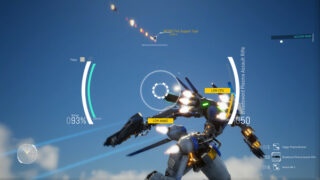 GameTomo has released the PlayPrime trailer and an eight-minute gameplay video for high-speed mech action game Nimbus INFINITY.
Here is an overview of the game, via its official website:
■ A New Age

It's the eve of the year 2100.

In the time since the end of the last great war, half of humanity has migrated to space and built colonies to open a new horizon, while the central CFN government has successfully united the warring factions of Earth under its iron command.

Battle Frame technology has fallen into disuse, as elite pilots with the ability to create neural links with the mighty mechs have all but vanished, ceding the battlefield to brute force and superior numbers.

But as 2099 ends and 2100 begins, a young man sees a bright light streak across the sky, and the future of humanity once again hangs in the balance.

The next installment in the high-speed mech action series Project Nimbus, arriving soon.

■ Mechanics

Skill-Based Combat – Choose your weapons wisely and aim them accurately to take out a variety of enemy types.
Diverse Battlefields – Cities, asteroid belts, deserts, and various other environments to add new levels of challenge and excitement.
Customizable Loadouts – Build your loadout from multiple options, gears, weapons, missiles, and more.

■ Characters

Taiyo Iwata

A 17-year-old high schooler from Saitama who delivers tofu to make ends meet.

He leads a typical middle-class life—albeit with a single mother, who's lately been away working in a different city. This effectively leaves him to run the family's delivery business all on his own.

It's a mundane, but peaceful life… at least, until he gets entangled in a conflict beyond his wildest understanding.

Luna Campbell

A 15-year-old girl of British descent, hailing from a wealthy family with significant influence in both the terrestrial and extraterrestrial economies.

While book-smart and full of ideals gained from literature, she has a naivety that comes from her sheltered upbringing—a privileged life that will soon be challenged.
Nimbus INFINITY is due out for "next-gen consoles" and PC via Steam in 2021.
Watch the footage below.
Trailer
Gameplay