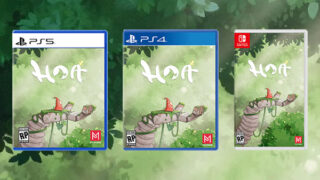 Publisher PM Studios and developer Skrollcat Studio have delayed puzzle platforming game Hoa from its previously planned April window, as well as announced that PlayStation 5, Xbox Series, PlayStation 4, and Xbox One versions will launch alongside the previously announced Switch and PC (Steam) versions. The PlayStation 5, PlayStation 4, and Switch versions will also be available as retail physical editions and are available for pre-order now.
Here is an overview of the game and its DualSense wireless controller support, via PM Studios marketing director Paul Hartling on the PlayStation Blog:
About

Hoa features breathtaking hand-painted art, lovely music, and a peaceful, relaxing atmosphere as you navigate the world with a keen eye to solve exploration-based puzzles. Experience the magic of nature and imagination as you play as the main character, Hoa, on her journey through heartwarming environments back to where it all began for her.

The main character, Hoa, belongs to a tribe of fairies with the power of nurturing flora and fauna. The fairies create and maintain life and harmony on an island of magical plants and creatures. After a tragic event, Hoa was sent away as a baby, leaving her with no memories of who she is, or what happened.

The game begins when Hoa returns to her homeland for the first time after many fairy years of being away. As she presses on, her fairy power breathes life back into the land, and wakes its residents up from their long slumber. The further Hoa goes, the more friends she makes, and the more she finds out about herself and her homeland. The journey, however, remains mysterious in its purpose, until it ends at the Land of the Spirits—a dreamlike realm where the back-story is finally unveiled.

Hand-Painted Art

Step into a painting that lives—explore a vast world of meticulously crafted sceneries of stunning hand-painted art.

Outstanding original soundtrack

Captivatingly story-telling and emotionally-charged Hoa's score, originally composed and live-recorded, brings its world to life with a touch of nostalgia.

Lovely Creatures

Keep an eye out for delightful magical creatures along the way. Most of them want to be friends, some might even tell you a little story or two. Cuteness guaranteed.

This is all thanks to the wonderful development team at Skrollcat Studio. Skrollcat Studio was formed in 2019 by a group of five Vietnamese friends working and studying together in Singapore: Four of them (including the two founders Son Tung and Son Tra) graduated from Nanyang Technological University, Singapore, with backgrounds ranging from Interactive Media to Digital Animation to Computer Engineering. Thanks to an open call to composers, they found their fifth member, Johannes Johansson, whose music very much rings the voice of the game.

Before the studio formed, Tung and Tra had started discussing story ideas and making early pieces of concept art way back in 2017. They kept it as something of a hobby outside of their full time job and study, but the more they worked on it, the more it grew into something that has character – a life of its own.

They turned Hoa into a serious project in 2019 after encouraging online reception of the original concept. Being a small young team with little experience and an ambitious project, the team tried to look for external help, and had the chance to collaborate with some amazing artists and outsourcing partners from around the world. One of them is Kyx Studio, who has provided amazing production support.

DualSense Wireless Controller Features

For the PlayStation 5 version of Hoa, these DualSense controller improvements help to better imitate the immersive world around you:

Hoa can fly for a limited time, which you activate with a press of R2. Thanks to the adaptive triggers, as Hoa gets closer to her flight energy being depleted, the trigger will be harder to pull.
The DualSense wireless controller's haptic feedback will mimic actions and events over the course of the game.
You'll hear the grass and trees rustling via the DualSense controller's speaker.
These DualSense features will provide a richer experience for every player on PlayStation 5 as they explore the world around them.