Educational typing game Typing Quest for Switch launches April 22 in Japan [Update: Trailer]
Developed by SENA Networks.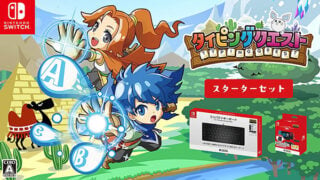 SENA Networks will release educational typing game Typing Quest for Switch on April 22 in Japan for 4,378 yen, listings at retailers such as Amazon Japan and Yodobashi reveal. A "Starter Set" including a HORI USB keyboard and USB hub stand will also be available for 10,934 yen.
Here is an overview of the game, via its product pages:
About

Play and learn with the first typing game for Switch! According to new educational guidelines, programming became a required subject in elementary school starting in 2020. And while the focus tends to be on the programs, typing is the equivalent of holding a pencil to learn writing for children who are using a computer for the first time. Being able to look up while accurately inputting keystrokes during class is the equivalent of looking at the blackboard while writing notes. And since you are going to be learning, why not improve your skills while playing on a game console?

Story

Shiro and Kuro are magical creatures in a magical world. One day, Kuro gets a little mischievous and uses magic to turn creatures into paintings. Seeing a world where all sorts of creatures have been turned into paintings, the cowardly Kuro runs off. Shiro tries to restore the world using magic, but cannot do it alone, so Shiro asks the protagonist who passes by for their help. Will the protagonist and Shiro be able to save this world…?

Game Systems

Single – Play through various stages in Story Mode. Use skills to defeat enemies that possess special abilities. The bosses that lie in wait at the end of each stage pack a heavy punch!
Battle – Compete in typing battles either locally or online. Use the typing skills you honed in Story Mode to battle, and enjoy learning and playing even more!
Daily – New problems will be added every day, so you can keep playing without getting bored! Get absorbed in the fun and hone your typing skills naturally.

Notes

A USB keyboard is required to play this game.
When playing in table mode, a USB hub stand is also required.
This game cannot be played in handheld mode.
Update 03/12/21 at 12:35 a.m.: SENA Networks has published the official announcement. Watch a set of trailers below. Visit the official website here.
Long Trailer
Short Trailer