Deck13 Spotlight to publish Full Circle, a 2D pixel art RPG set in a 3D environment, for PC
Published by Deck13 Spotlight.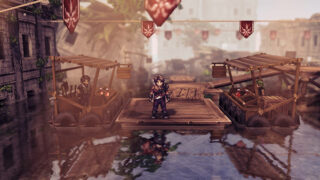 Deck13 Spotlight will publish 2nd Player Games-developed Japanese-inspired RPG Full Circle for PC via Steam, the company announced. A release date was not announced.
Here is an overview of the game, via its Steam page:
About

We are Protectors. Crafters. We are miners. We are the future of humanity. We still have to earn our place inside the floating cities. Our mission is clear. We will make sure that the generations before us can enjoy their life. And we will ensure that the generations to follow will do the same for us. When we reach the age of 25, our work is done and we can enter our very own sanctuary. This is how it always was and how it will always be. We've been raised this way. And we believe in our mission.

Full Circle is an old-school Japanese RPG deeply rooted in the PlayStation era. Our main inspirations are classics like Legend of Dragoon, Breath of Fire III, and Breath of Fire IV. It features turn based combat with an underlying combo system to broaden up the tactical decisions you will have to make.

Key Features

Dive into a post-apocalyptic world where only the toughest will survive.
Form a group of fearless adventurers.
Make use of a complex combo system in turn based battles to defeat your foes.
Enjoy a unique look where 2D pixel art meets a stylish 3D environment.
Listen to a fully fleshed out soundtrack.
While an official trailer has yet to be released, 2nd Player Games' Twitter and Facebook pages feature various short gameplay clips.
View the first screenshots at the gallery.