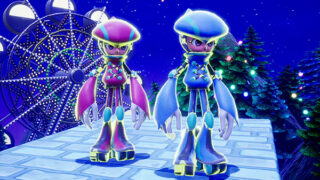 Publisher Square Enix and developer Arzest have released a trailer for Balan Wonderworld dubbed "A Hero or Two."
Here is an overview of the game, via Square Enix:
Story

Balan Wonderworld is a wondrous 3D action–platformer game themed around the mysterious Balan Theatre; home to an enigmatic maestro named Balan. The stars of the show, Leo and Emma, will use special abilities from over 80 costumes as they adventure in the bizarre and imaginary land of Wonderworld. Here memories and vistas from the real-world mix with the things that people hold dear. Twelve different tales await our stars in Wonderworld, each with their own unique quirks. Players will explore all corners of these labyrinthine stages, battling Negati and playing mini-games that are hidden along the way, to get to the heart of each touching story.

KeyFeatures

Gaming industry talent includes director, Yuji Naka (Sonic the Hedgehog franchise creator, Sonic Team co-founder) and character designer, Naoto Ohshima (Sonic the Hedgehog, Doctor Eggman, Sonic Team Co-Founder).
Balan Wonderworld marks Yuji Naka and Naoto Ohshima's first collaboration in 20 years.
Over 80 extraordinary costumes will be available and change the main character's appearances, granting them a wide array of fantastical powers to overcome obstacles and discover exciting new ways to play.
Two players can explore the game in local co-op, using creativity to overcome challenges by working together to find ideal combinations of costumes and use their abilities together to defeat enemies and save the day.
Balan Wonderworld is due out for PlayStation 5, Xbox Series, PlayStation 4, Xbox One, Switch, and PC via Steam on March 26. A demo is available now.
Watch the trailer below.