Anti-gravity racer BallisticNG coming to Switch
"Maceno Island Expansion" announced for PC version.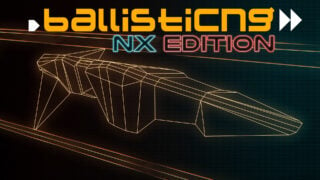 Neognosis will release a Switch version of anti-gravity racer BallisticNG dubbed BallisticNG NX Edition, the developer announced.
"We're developing the port ourselves and will be building it from the same codebase as the PC version so we can keep both versions as consistent as possible," the developer said in an update. "This means future updates for the PC version will be getting lots of hidden changes to make it possible to support the largely different platforms. It's lots of work in the short term, but long term it will be much easier for us to maintain both versions of the game side by side."
According to Neognosis, this is "a long term project and there is a lot to do before it'll be anywhere near done," so a release window is currently unknown.
In related news, the version 1.2.5 update for the PC version is now available, which updates all four "Model B" tracks, tweaks "Model B" ship stats, updates light bridges, adds bots to multiplayer, and implements vertical split-screen multiplayer support.
Additionally, the next expansion pack, the "Maceno Island Expansion," has been officially announced and will add six new tracks, new liveries, and a new campaign to the game when it launches. A release date was not announced.
BallisticNG first launched for PC via Steam in December 2018. Here is an overview of the game:
About

BallisticNG is an anti-gravity combat racer and the ultimate anti-gravity modding sandbox developed as a love letter to the original wipEout trilogy. Set in the year 2159, you glide through futuristic courses armed to the teeth with deadly weapons to aid you in taking first place.

With a laser focused and authentic recreation of the original PlayStation wipEout game physics, merging the best of each entries handling into one streamlined experience, BallisticNG returns anti-gravity racing to its glory days of technical piloting mechanics that are immensely satisfying to master.

Key Features

A Track for Every Skill Level, A Ship for Every Play Style – With 35 hand crafted tracks and 16 unique ships in the base game, BallisticNG has something for everybody.
Start Slow, Go as Fast as You Can Handle – With five speed classes and gameplay modifiers to manipulate the base speed of each class, you can race at speeds anywhere between a snail's pace or breaking the sound barrier on every straight.
A Campaign to Test Your Skills – Push your skills with 98 events spanning across 10 campaign blocks.
Eliminate Those Who Stand in Your Way – Pick up weapons from the track and blast your way through the competition.
Custom Races – Pick a game mode, configure it, add up to 16 racers with whatever difficulty you want and jump straight in.
Game Modes – Race, Tournament, Time Trial, Speed Lap, Eliminator, Knockout, Survival, and Upsurge.
Multiplayer – Play with others in two player split-screen or online via direct IP or Steam. Online multiplayer is cross-platform across Windows, OSX, and Linux and supports custom ships and tracks!
VR Compatible – BallisticNG is fully compatible with SteamVR. Jump into the cockpit of your favorite ship and strap yourself in for the ride of your life! (The cockpit view is also available outside of virtual reality.)
Soundtrack – BallisticNG features a thumping soundtrack featuring over three hours of music inspired by old school electronic genres. Any updates to the soundtrack are also added to the soundtrack downloadable content at no additional cost.
Modding – Built for modding, BallisticNG provides a large assortment of ways to modify it and develop new content using the same tools and level of customization used in development:

A spline based layout creator with instant playtesting for rapid and easy track prototyping.
Unity based custom ship and custom track configuration tools for ultimate creative freedom.
Native support for mods written in C#. (Game modes, weapons, stats / achievements, or anything else you can think of!)
Custom campaigns written in XML.
Custom in-game and menu music support.
Sound replacement packs to replace most sounds you hear in the game.