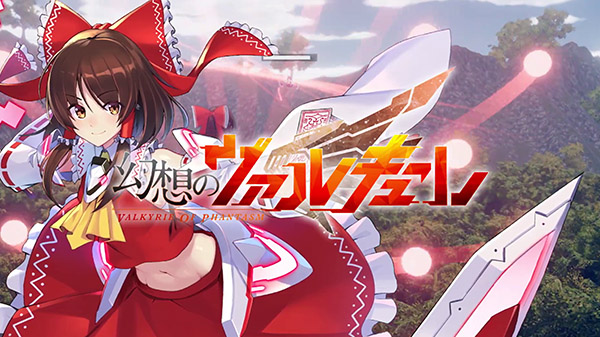 Areazero has released the "full-scale development start" trailer for Touhou Project aerial action game Valkyrie of Phantasm.
The game's official website was also updated:
■ A New Aerial Action Game Project Fully Underway

Freely fly through the sky, dodge the bullet barrages coming your way, and shoot spells…

From Touhou Sky Arena developer Areazero comes a new aerial battle action game project featuring Touhou Project characters, which is fully underway toward its prologue version release.

Faster, more intense, and with crazier barrages of bullets—please look forward to the girls' aerial combat action.

■ The Girls' New Wings: Valkyrie Arms

It is said that the "Valkyrie Arms," brought to Gensokyo by someone from the outside, possess the power to multiply the wearer's aerial prowess, and the deeper its bonds as a partner, the faster and stronger the wearer will become.

Scattered throughout Gensokyo, the Valkyrie Arms will become the girls' wings and lead them to ultra high-speed bullet barrage battles.

■ Characters

With the project fully underway, character designs have been renewed. The combination of Touhou Project characters and mechanical units produces the game's visual concept. (Reimu Hakurei will be the only playable character in the "Early Type" release detailed below.)

Reimu Hakurei

Marisa Kirisame

Youmu Konpaku

Patchouli Knowledge

And more…

■ Early Type Event Distribution

Valkyrie of Phantasm version 0.2 for Windows 7, 8, and 10 will be distributed at Hakurei Jinja Reitaisai on March 21. By using the download code printed on the card, you will be able to download and play version 0.2 and its updates (versions 0.2 to 0.29).

(Version 0.1 download card pictured.)
Valkyrie of Phantasm was previously announced as planned for release on PlayStation 4, Switch, and PC. However, the latest trailer notes that the character roster, supported platforms, and completion timing has yet to be determined.
Watch the trailer below.